Archive for Birdwords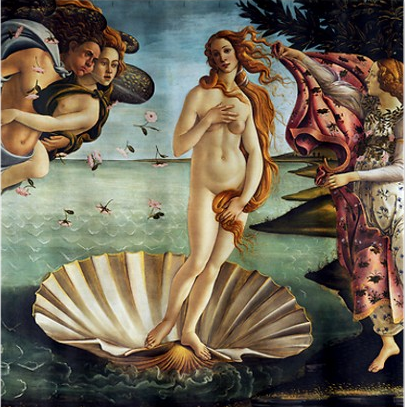 Everybody knows that seabirds are not the metamorphic products of shellfish. We've known it since at least the thirteenth century, when the Holy Roman Emperor Frederick II, skeptical of what he'd read, imported some rotting planks from Scandinavia and found that the barnacles on the wood produced — more barnacles.
The final nail in this particular ornithocoffin came in 1680, when Thomas Maloüin, a professor of medicine at Caën, published his late colleague André Graindorge's Traité de l'origine des macreuses, a thorough, frequently sarcastic refutation of the notion, held by
numerous authors and an infinite number of private persons, that certain birds commonly called Macreuses, Oyes d'Ecosse, or Canards are born of seashells, an opinion supported by numerous precise accounts….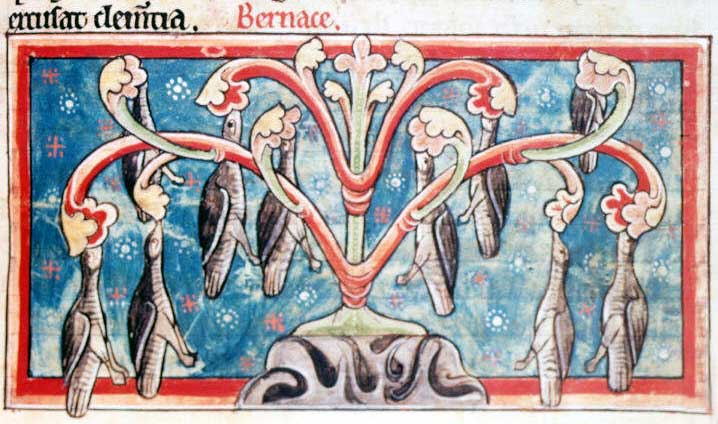 Graindorge explains that
the reason that Authors looked for the origin of those birds other than in the normal course of nature is that one finds such a great number of them on the coasts of England and neighboring islands without ever having been able to discover their eggs or nests, with the result that people were easily convinced that this sort of bird is born without father or mother, without having been either laid as an egg or incubated.
Graindorge's treatise is probably the richest collection anywhere of citations to earlier authors who treat the problem. He identifies three principal theories that have been advanced:
The one group has claimed that there were trees in England that bore birds instead of fruit. The second group argue that these birds are born on rotting boards, and that they hang on with their bills, detaching themselves from the plank when they have fledged and can survive on their own. And others, a third group, claim that those are not birds attached by the bill, but rather actual shells; they claim that the birds are formed within those shells and emerge when they have reached a state of perfection.
Graindorge refutes each of those theories in a separate Article before affirming the obvious solution — that the birds were breeding in the normal way, but in the distant north. He notes that that idea did contradict an important element in older theories of animal generation: Who, asks Graindorge (rhetorically),
would ever have though to seek the sites of their reproduction in the deepest North … a country where the heat necessary to generation is entirely lacking, where shadows and cold reign with such violence that the earth is nothing but a single sheet of ice and the sea freezes right up against the shore?
He dismisses that obstacle with a simple pointer to the facts: when, in 1596, the Dutch Northeast Passage expedition under Willem Barentsz
found these birds incubating their eggs on their nests, they put an end to any doubts about the true manner of their breeding…. the order of Nature as confirmed by the Dutch, whose testimony in the matter is decisive, [is that these birds] are generated in the same way as other birds; the sexes differ, and as a result of the coupling of the male and the female, they lay eggs and incubate them, whence their young are born, young that resemble their father and their mother and are of the same species.
Graindorge finds further support for that sensible assertion in the writings of scientists who collected and dissected female specimens of the "Oye d'Ecosse," finding in them large numbers of unlaid eggs just as one would in a domestic hen.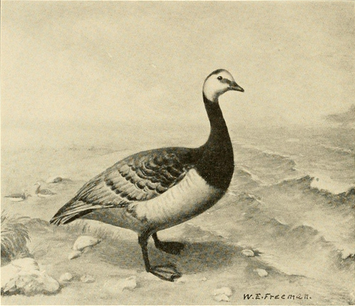 Like most of us, I first heard about fowl born of seashells in high school biology class. The bird in question was identified in our textbook's sidebar as the Barnacle Goose, and I even have in dim memory the accompanying illustration, showing the graphic transformation of a goose-like barnacle into a barnacle-like goose.
Now, though, to my surprise, I have learned from Graindorge that that identification was not certain, or at least not exclusive, among the tellers of the tale.
The Authors who treat of these birds speak of them so variously, and name them in so many different ways, that it is difficult to believe that they all understood the same single species of bird under so many different names.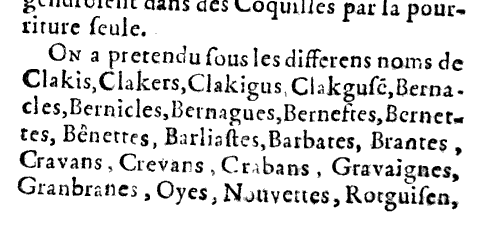 Graindorge goes on to list a few:
Clakis, clakers, clakigus, clakgusen, bernacles, bernicles, bernagues, bernestes, bernettes, bênettes, barliastes, barbates, brantes, cravans, cervans, crabans, gravaignes, granbranes, oyes, nouvetttes, rotguisen, malcot, macourle, macreuse,
and, of course, "Oye d'Ecosse, a name that," says Graindorge, "one can use without objection so long as under that name one understands birds of varying natures," what we would call today "different species."
By carefully reading the descriptions given these "Scottish geese" in the old sources, Graindorge is able to identify several of the "actual" birds burdened over the centuries by the shellfish myth. One of them, he says, is clearly what we know as the Brant.
He adds the scurrilous (and still famous) detail that
in Brittany, one does not hesitate to eat these birds on fast days, since people there accept that these are the true Scottish geese [that is to say, the birds that begin life as shellfish and are thus exempt from religious restrictions on the eating of "meat"].
Graindorge identifies Belon's description as pertaining to a different species of goose, the classic Barnacle Goose.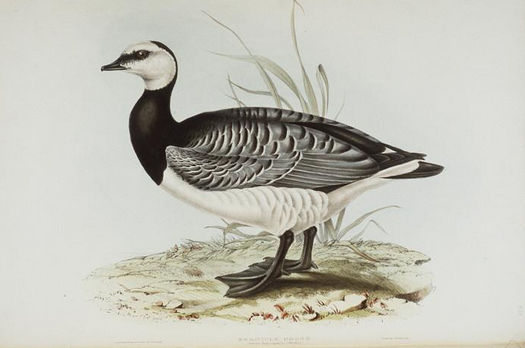 In Paris, in Normandy, and elsewhere, Graindorge writes,
the scoter [la Macroule ou Macreuse] is consistently identified as the true Scottish goose, the origins of which were long unknown but attributed, falsely, to rotting wood and seashells. This is a bird about the size of a duck, much smaller than a goose; it comes to our coasts in autumn and winter. It remains on the sea almost all the time, diving to the very bottom to seek its food in the sand, and our fishermen taken them with shallow nets that snare them when they return to the surface; this drowns them, and so they are rarely captured alive…. Their bill is flat and broad and has a conspicuous protrusion above of various colors; there is much yellow and a little red, more in some birds and less in others….
Graindorge's plumage description makes it plain that he is speaking of the Common Scoter, a species both sexes of which he knew well from dissection. He notes the presence of testicles in the drakes and ovaries in the ducks, "as in all other birds."
One hardly sees the ova in the winter. At first they are so small that some have believed that they were ejected and abandoned in the water, like those of fish; but the eggs increase gradually in size, and because the birds usually leave us as soon as the weather warms up, its rare that one sees the eggs at their full size.
Thus, Graindorge concludes,
Our scoters, which are a species unto themselves … reproduce by eggs … and we must not look for them to have any extraordinary means of reproduction; it is in vain that one has sought their origins in the seashell with which we began this treatise… But one can still eat scoters on fast days on the consent of one's priest … a custom dating to time immemorial.
That last wry remark would prove fatal. As David Lux has explored at length, the French Royal Academy declined to endorse Graindorge's conclusions in his treatise, with the result that the Paris withdrew its funding of the Caën Academy he had founded. The Traité was shoved into the back of a drawer, published only after its author's death in 1676.
Graindorge's identification of the scoter as one of the species of sea-born fowl may suggest a solution to an old problem in English etymology: No one has ever been able to determine a plausible source for the strange word scoter. But what happens if we look at that label "Scottish geese" in its original form? Nearly all of the sources Graindorge cites are in Latin, where the standard designation for these birds is, naturally enough,
Anseres Scotorum.
Are you thinking what I'm thinking?
It would require a certain carelessness and cluelessness to make the error, but I wonder whether some reader centuries ago didn't construe that second word as a slightly askew genitive of definition, "geese, of the scoter kind," or even an apposition, "geese, scoters." We'll never know, until some busy scholar comes across a marginal note in an early natural history; but for the time being, it makes as much sense as anything else. And a lot more sense than thinking the birds are born of the foam.