Archive for Birdwords
I love a good appendix.
Lest you think I'm starting an especially ghoulish Halloween especially early, let me hasten to explain:
One of the best parts of Burtt and Davis's Alexander Wilson is the two-page
list of books available to Alexander Wilson relating to zoology, especially ornithology, in the libraries of the American Philosophical Society, Library Company of Philadelphia, and William Bartram,
a hugely informative catalogue followed by tables indicating how often Wilson cited each. These few precious pages answer lots of questions — and raise even more that we might not even have thought to ask. And they give us a good sense of just how sloppy a bibliographer Wilson could occasionally be.
In the third volume of the American Ornithology, Wilson announces the discovery of a bird he named Sylvia magnolia, the black and yellow warbler.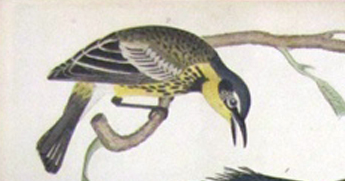 He had collected two himself, and notes that Charles Willson Peale had earlier encountered "this elegant species" in the Philadelphia area.
With the pride of an immigrant, Wilson reminds his reader that
No notice has ever been taken of this bird by any European naturalist whose works I have examined.
Oh, really?
In 1758, eight years before Wilson's birth, George Edwards presented a fine plate (better than Wilson's) and a thorough description of the "yellow-rumped fly-catcher," a bird he had received "preserved dry" from none other than a very young William Bartram, the very man who would nearly half a century later become Wilson's patron and encourager. To Bartram goes the honor of discovery.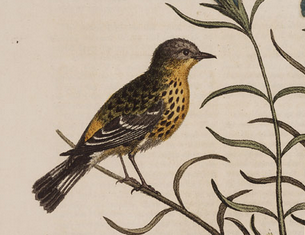 Mathurin Brisson introduced the bird to continental readers in 1760, citing and largely translating Edwards's text in the third volume of the Ornithologie. Buffon referred to both Edwards and Brisson for this species, taking the opportunity to gently reproach the Englishman for calling it a moucherolle – a flycatcher — rather than a warbler. John Latham listed the species in his Synopsis in 1783. Two years later, Thomas Pennant included a description of the species in the Arctic Zoology. In 1788, Wilson's "new" warbler entered the Linnaean canon when it was listed in Gmelin's edition of the Systema. Latham used Gmelin's name, maculosa, in his Index of 1790, published four years before Wilson arrived in America.
I've piled up all those names and dates and references to make my point even more, ahem, pointed.
According to Burtt and Davis, Wilson in the American Ornithology cites Edwards 55 times, William Bartram 62 times, Brisson 82 times, Buffon 151 times, and Latham 173 times. He refers to Gmelin only once — and to Gmelin's English translator, Turton, 64 times.
But not once, in the course of consulting these standard works a minimum of 588 times, did Wilson come across Edwards's yellow-rump.
Why not? He just plain overlooked it, obviously. But little lapses like this only make their scarcity the more impressive in Wilson's monumental work.
If you made it to the end of that heap of names and dates a couple of paragraphs up, you will be wondering what ever happened to Dendroica maculosa. To Wilson's great and good posthumous fortune, Gmelin's name Motacilla maculosa turned out to have already been used in 1783 by Boddaert to name the Karoo prinia. Wilson's name, published in 1811, was the next available.