Archive for Germany
Another fantastic Victor Emanuel Nature Tours Birds and Art excursion to northeastern Germany — great group of participants and a great experience all around!
Some notes and some pictures:
Birds and Art in Berlin and Brandenburg
September 29 – October 8, 2018
It's hard to imagine anything bird-and-artier than a walk through the palace gardens at Charlottenburg. With the Baroque splendor of Queen Sophie-Charlotte's summer house as the backdrop, the woods, ponds, and formal lawns are aflutter with birds, from Eurasian Wrens and European Robins trilling in the shady underbrush to exotic Mandarin Ducks and soberly clad European Coots dotting the water. Our morning's walk there, beneath the crystal clear skies of the German "Nachsommer," was one of the most exciting of our trip, new birds and new vistas around every corner.
Even birders have to keep body and soul together, though, and our ears and eyes finally sated, it was time to pay a little attention to our stomachs. The midday meal across the street at Opera Italiana was as delicious as always—and identifying the photographs of celebrities on the walls as challenging as ever. And then we were faced with one of the agonizing choices a city as culturally rich as Berlin threw at us again and again: some of us wound up in front of the Klees at the Berggruen Museum, others admiring the art nouveau treasures of the Bröhan, others enjoying the surrealist experience at the Scharf-Gerstenberg. As always, the day's impressions provided fodder for lively conversation over yet another excellent dinner together.
Our days were like that, birding and sightseeing and simply soaking in the landscapes, cultural and natural, that make northeastern Germany such a fascinating destination for the birder with broad interests. A morning's walk through the polders and marshy lowlands of the Oder River was highlighted by three species of woodpecker; the fine Great Gray Shrike that paid us a visit was no doubt hoping to make closer acquaintance with the Yellowhammers hopping cooperatively down our path. The light rain that set in after lunch made the thirteenth-century Chorin monastery all the more evocative as we wandered the deserted cloister and marveled at the ruins of the giant nave.
Berlin is full of more recent history, too, of course, and we started the tour with an excellent dinner atop the roof of the Reichstag building; afterwards, as the moon rose over the city, we slowly ascended Norman Foster's magnificent dome for a foretaste of many of the places we would visit in the course of our time together, from the Nikolaiviertel—site of Berlin's earliest settlement, where we witnessed the dress rehearsal for a peculiar piece of performance art in St. Nicholas Church—to Potsdamer Platz and the spectacular Sony Center, one of the most vibrant symbols of a reborn Berlin. We looked out, too, over some of the greatest museums in the world, museums like the Pergamon, the Neues Museum, and Berlin's incomparably rich Gemäldegalerie, which most of us would visit in the days ahead to view such treasures as the Ishtar Gate, the Golden Hat, and masterpieces from the brushes of Cranach and Caravaggio.
Our cultural experiences both alternated and overlapped with our birding. The huge goose flocks at Altfriedland were resting on ancient fish ponds excavated on the orders of the nuns of the Cistercian monastery there, and in Berlin, right across the street from our very comfortable hotel, some of our most productive walks were in the Friedrichshain, the large wooded park created to commemorate the centennial of Frederick the Great's ascent to the throne of Prussia. The dozen and a half Mandarin Ducks on the lake there quickly became "our" Mandarins, and the Blue and Great Tits, European Nuthatches, and Wood Pigeons of the Streamside Garden there welcomed us as if we were old friends bearing sunflower seeds. Among the very first official birds of the tour was the Northern Goshawk that powered across the park low over our heads on our first pre-breakfast walk.
Even our one day devoted almost entirely to the birds—the drive to the Gülper See by way of Senzke—was enriched by the cultural weight of the landscapes we admired. We had no difficulty quickly finding our target, the Great Bustard, five of which loafed casually on a roadside field, dwarfing the Common Raven that joined them. Our delight was tempered but our gratitude doubled by the knowledge that we were looking at something like 2% of the country 's entire tenuous population of the species, down from the 4,000 individuals still present before the Second World War: birds have their historical fates, too, and the bustard's has not always been a happy one.
At the Gülper See, we sorted through endless flocks of geese and gasped at the arrivals of massive White-tailed Eagles as we stood in the shadow of the windmill of Prietz, constructed in 1773. Our late lunch at the nearby Charly's Treff was a glimpse into the architecture and interior design of a later but equally historic period, East Germany ca. 1970—in welcome contrast to those long-ago days, though, with excellent food and charming service.
As usual on this tour, I found myself guilty again and again of proclaiming every new sight and site "my all-time favorite in the world." I think everyone in our companionable group now understands why.
September 29: flights to Tegel, with arrival in Berlin the following day.
September 30: bright, clear, and warm (60s F). Assemble in hotel at 5:30 pm. Short walk to the Reichstag and 6:30 dinner at Käfer, the restaurant on the Reichstag roof, followed by a nocturnal visit to the Reichstag dome as the moon rose over the city lights. Back in hotel 10:40 pm.
October 1: breakfast in hotel. Optional birding walk in Friedrichshain. Full group assembled at 9:00 am for fuller exploration of the park, returning to the hotel at 11:20; break in hotel to 12:00 noon. Ten minutes on bus 200 to Lustgarten, then short stroll down the Spree to the Nikolaiviertel. Lunch 1:00-3:00 in Altes Berliner Weißbierhaus, followed by Nikolaikirche and surrounding landmarks 3:00-4:20 pm, where we witnessed rehearsal for a new piece of art for organ and voice and space. At hotel 4:40 pm. Clouding over, cooler, more humid. Checklist in hotel at 5:30, dinner down the street at Pane e Rose 6:00-8:50 pm. Light shower during dinner followed by clearing skies and temperatures in the low 50s F. At hotel 8:55 pm.
October 2: breakfast in hotel beginning at 6:30 am. Left hotel on minibus at 7:40 am; chilly, bright, breezy. After restroom and snack break on the way, Teerofenbrücke north of Schwedt 9:40 am – 12:10 pm. Lunch 12:25-2:10 pm at Charlys Treff. Rapidly clouding over, with mist and light drizzle, 40s F. Chorin Monastery 2:50-4:20. Arrive hotel 5:45 pm. Checklist 6:45 pm, followed by 10-minute M4 tram to Hackescher Markt; dinner Brauhaus Lemke 7:30-10:00 pm. At hotel 10:30 pm. Temperatures rising, clouds dissipating.
October 3: breakfast in hotel beginning at 6:30 am. Left hotel on minibus at 8:30 am, arriving Sans Souci 9:40 am after restroom and snack break on the way. Palace gardens 9:40-11:30 am. Lunch at Altstadtwächter in Potsdam 11:40-1:50. Sans Souci gardens and palace 2:05-4:00 pm. Light rain on and off all day, alternating with bright blue skies; wind, mid-60s F. At hotel 5:30 pm. Bus 200 to dinner and checklist at Lindenbräu, Sony Center, 7:35-9:35 pm. Subway and tram to hotel, back at 9:55 pm.
October 4: breakfast in hotel beginning at 6:30 am. Left hotel on minibus at 7:30 am. Great Bustards near Senzke at 9:25 am. Chilly, occasional light rain, scattered fog, humid, calm. Gülper See, southern shore, 10:10 am – 1:15 pm. Lunch 2:00-4:00 at Alte Brennerei Liepe. At hotel 5:40 pm. Dinner and checklist in hotel 7:30-9:15 pm. Garlitz and Gülper See, lunch, break, dinner.
October 5: breakfast in hotel beginning at 6:30 am. Left 8:50 am for tram M4 to M10 to Charlottenburg; walk to Charlottenbug Park, arriving 9:50 am. Charlottenburg 9:50-12:25. Beautiful bright skies, calm, low 70s F. Lunch 12:30-2:45 at Mangia Opera Italiana. Berggruen, Bröhan, and Surrealist Museum and Berlin Collection of Casts from Classical Antiquity, 2:50-4:15 pm. At hotel 5:00 pm. Tram M4 7:00 pm to Prenzlauer Berg. Dinner 7:30-10:00 pm Zum Dritten Mann, Kollwitzstrasse. At hotel 10:20 pm.
October 6: breakfast in hotel beginning 7:00 am. Left at 7:40 am in minibus for Altfriedland; with stop on the way for coffee and restrooms, arrived 9:45 am. Altfriedländer Teiche 9:45 am to 12:15 pm. Restroom break at Kloster Altfriedland. Lunch 12:55-2:45 pm at Landgasthof Bliesdorf, followed by short walk in Altfriedland. Warm and bright, with light breezes; slight overcast in evening. At hotel 5:10 pm. Tram M4 at 7:00 for Hackescher Markt; dinner Restauration 1840 7:20-10:15 pm. At hotel 10:25 pm.
October 7: breakfast in hotel beginning 7:00 am. Optional birding 7:00-7:55 am in Friedrichshain. Overcast, breezy, 50s F. Left on Bus 200 for Lustgarten at 9:45 am. Museums of Museum Island 10:00 am on: some to Neues, some to Altes, some to Pergamonmuseum; others to Alte Nationalgalerie. Lunch on own. Assemble at hotel at 2:00 pm for minibus drive to Linum. Back at hotel 6:10 pm. Dinner in hotel 6:30-8:30 pm.
October 8: breakfast in hotel beginning 6:30 am. Departures.
BIRDS
Waterfowl
Graylag Goose, Anser anser: common throughout on larger lakes and fields, with a few flyovers in the city itself. The largest numbers were at the Gülper See and the Altfriedland ponds, where flocks totaled in the low thousands. The nominate race of this species, A.a. anser, is the most redundantly named of all birds: "lag" and "anser" both mean "goose," making that subspecies literally the gray goose goose goose goose goose.
Greater White-fronted Goose, Anser albifrons: very small numbers at the Gülper See and Altfriedland. All seen were adults, and all had a knack for disappearing into the mass of slightly larger Graylag Geese, requiring some effort to "get on" them.
Tundra Bean Goose, Anser serrirostris: notably small numbers this year. The largest numbers were at Altfriedland, where we found a few dozen scattered in the massive Graylag flock; at the Gülper See, where this species is often abundant, we had a scant score in flight overhead.
Bar-headed Goose, Anser indicus: one adult at the Gülper See. This introduced species is well established in Germany and has been on the "official" country list for some years. Individuals, pairs, and family groups are usually seen with other gray geese, and this bird, true to form, was in the middle of a large flock of Graylag Geese, where it was sometimes hard to pick out. Famous for its extraordinary cross-Himalayan migrations, this species retains its migratory habits in Germany.
Canada Goose, Branta canadensis: two at Charlottenburg Palace. This introduced species is established over much of Germany, but has been much less successful than in some other parts of Europe and Britain.
Mute Swan, Cygnus olor: scattered throughout, many in family groups with up to four dusky brown cygnets. The "Polish" Mute Swan, in which even the young birds are white, is occasionally encountered in eastern Brandenburg.
Mandarin Duck, Aix galericulata: common on small wooded ponds in Berlin and Potsdam. Long established in this part of Germany, these birds were introduced for their extreme beauty, and are a now a much sought-after specialty of the area. Our high count in Friedrichshain was an impressive eighteen, and combined with the birds at Sans Souci and Charlottenburg, we tallied something like fifty individuals during the tour. With summer barely past, the males were already in full courtship mode, sails raised as they chased and strutted on the water; the specific name "galericulata" means "little helmeted bird," an apt description of the male's colorful headgear.
Northern Shoveler, Spatula clypeata: small numbers on larger bodies of water, the total for the trip only about 25.
Gadwall, Mareca strepera: scattered individuals and small flocks on large bodies of water, totaling about 30 for the week.
Eurasian Wigeon, Mareca penelope: sometimes hard to find this early in the season, but this year very common at the Gülper See, where each scan of the goose flock turned up several dozen.
Mallard, Anas platyrhynchos: small numbers throughout, on bodies of water ranging from the smallest of park ponds to the large lakes at Altfriedland and Gülpe.
Northern Pintail, Anas acuta: three or four at the Gülper See, half a dozen at Altfriedland.
Common Teal, Anas crecca: abundant at the Gülper See, with numbers in the high hundreds, and common at Altfriedland, numbers there of 100 or more. Most males were still in their dull, "eclipse" plumage, but already some were giving their scratchy courting calls, the source of the scientific species name. Most taxonomic authorities now split this species from North America's Green-winged Teal.
Tufted Duck, Aythya fuligula: the best views of this common breeder and winterer were on the lake at Charlottenburg, where the ten or so birds were equally divided into males and females.
Tufted x Ring-necked Duck, Aythya fuligula x collaris: a single drake on the lake at Charlottenburg, with the neat blue and white bill pattern of the Ring-necked and the crest (though shorter) of a Tufted; the flanks were largely white, with some gray clouding the rear flanks. The wing stripe was not seen. This is a well-known but quite uncommon hybrid combination, illustrated in the standard field guide by Svensson et al.; the Ring-necked Duck parent can be either a genuine vagrant or an escape from captivity.
Common Goldeneye, Bucephala clangula: three at the Gülper See. This species is an uncommon breeder in forests throughout Brandenburg, slightly more common in migration and winter. The German name, "Schellente," refers to the sleighbell-like whistle produced by the wings in flight; our birds were all on the water.
Pheasants
Ring-necked Pheasant, Phasianus colchicus: introduced and long established in Germany, as it is over most of Europe. Four or five were found standing on fallow fields in the Märkische Schweiz.
Grebes
Great Crested Grebe, Podiceps cristatus: a common breeder on ponds of all sizes, but by this time of year most have moved onto larger bodies of water for the winter. Our best views were at Altfriedland, especially of one individual still showing some of the elaborate breeding plumage that surfaced ever closer to us as we watched from the bank.
Little Grebe, Tachybaptus ruficollis: one at Altfriedland.
Cormorants
Great Cormorant, Phalacrocorax carbo: very common throughout, with large roosts on the mud at the Gülper See. Just like our Double-crested Cormorant, this species is increasing rapidly and spreading; singles were seen over our hotel and small numbers even in the middle of Berlin on the Spree.
Herons
Gray Heron, Ardea cinerea: scattered here and there, the largest number a loose aggregation of seven birds on a field just north of Berlin, no doubt in search of mice. Birds at Sans Souci and in the Friedrichshain across from our hotel gave exceptionally good looks.
Great Egret, Ardea alba: just thirty years ago it would have been notable to find a single bird of this species in northeastern Germany. Now, the nearly 100 individuals at Altfriedland were only a mild surprise, and if this is not the country's most abundant heron, it is certainly its most conspicuous. Currently considered conspecific with the North American bird, European Great Egrets differ markedly in their soft-part colors in the breeding season and may well prove a separate species.
Hawks, Kites, and Eagles
Red Kite, Milvus milvus: common in the countryside, but this is one bird no one could ever grow tired of, huge and colorful. The Red Kite is a species of particular interest to Germany's wind energy industry, and every effort is made to keep the giant windmills and the birds apart. This is the species notorious for having patrolled the streets of medieval European cities, snatching food from the hands of unsuspecting pedestrians; it now haunts more rural habitats.
White-tailed Eagle, Haliaeetus albicilla: one of the past half century's great conservation triumphs, this once-rare bird is now among the commonest and most conspicuous raptors on the north German plain. Nesting is still very local, but by September birds are popping up everywhere there is a chance at a moribund fish or goose. Our closest views were at the Gülper See, where one immature bird landed at close range, only to be "mobbed" by a Hooded Crow. Most impressive of all, though, were the two adults soaring high in the blue sky over Bliesfeld as we returned to our minibus after lunch.
Eurasian Sparrowhawk, Accipiter nisus: seen twice in the Friedrichshain, the first bird a furtive blur on our first early morning walk, the second giving much better views on our last early morning walk. It is possible that the species nests in the park, but at this date a hungry migrant is just as likely.
Northern Goshawk, Accipiter gentilis: Berlin's urban goshawks are famous around the world. With something like thirty pairs in the city limits, the bird is remarkably common, but that makes this secretive woodland raptor no easier to see than it ever is. We were very fortunate on our first early morning walk in the Friedrichshain to have a massive individual fly low over our heads, no doubt to the horror of the ducks on the pond.
Common Buzzard, Buteo buteo: very common in the countryside, with seemingly every other field surveyed by one or more perched on the ground, a fence, a tree, or a hunter's stand. Like some other buteos, this species appears in a wide range of plumage aspects, and we saw some very black birds.
Bustards
Great Bustard, Otis tarda: five individuals near Senzke on October 4. As expected, these birds were loafing on a rape field, accompanied by and decidedly dwarfing a Common Raven. If it continues, the still tenuous recovery of this rare bird in eastern Germany will be one of the great conservation successes of our age. Larger populations are still extant in Poland, Hungary, and Spain, but our five represented something like 1.5% of Germany's entire stock of Europe's heaviest native bird.
Rails
Eurasian Coot, Fulica atra: fairly common large bodies of water. Our best views were of several extremely bold birds on the lake at Charlottenburg.
Cranes
Common Crane, Grus grus: this attractive species lived up to its name on fields and pastures every time we left Berlin—and flocks could even be heard passing over our hotel at times. Common Cranes breed throughout Brandenburg, but they are most conspicuous in early October, when Scandinavian migrants are at their peak.
Plovers
Northern Lapwing, Vanellus vanellus: five gave great views as they flew past us at the Gülper See. This big crested plover is common in the area at this season, but concentrations seem to shift from year to year. The name is the product of a folk etymology of an Old English word meaning "bounding flutterer," in reference to the bird's swooping flight style.
Sandpipers
Ruff, Calidris pugnax: four wandered through as we were concentrating on keeping track of the Bar-headed Goose at the Gülper See.
Gulls
Black-headed Gull, Chroicocephalus ridibundus: common on larger bodies of water, with a few here and there on the Spree in Berlin.
Yellow-legged Gull, Larus michahellis: common on larger bodies of water, with a few here and there on the Spree or soaring high overhead in Berlin.
Common Gull, Larus canus: four adults were loafing at great distance with Yellow-legged Gulls at the Gülper See. While the AOS (the former AOU) still considers this and the North American Mew Gull a single species, most more progressive taxonomies split them.
Pigeons
Feral Pigeon, Columba livia: common in urban centers, villages, and farmfields, but everywhere outnumbered by Wood Pigeons. Native to the seaside cliffs of Europe and Asia Minor, this familiar bird has accompanied human settlement from time immemorial.
Common Wood-Pigeon, Columba palumbus: abundant throughout, in Berlin and the countryside alike, gorging on acorns, beechnuts, and waste grain. This huge and colorful pigeon with its strikingly patterned wings and tail is equally at home on city sidewalks, in wooded parks, and on agricultural fields, and large flocks of apparent migrants are often seen overhead at this season.
Eurasian Collared-Dove, Streptopelia decaocto: predictably, seen in only very small numbers in the villages of the Brandenburg countryside. Now abundant in much of western and southern Germany, this species began its explosive expansion from the Balkans in the 1930s; here as in North America, the dominant direction of colonization has been to the northwest rather than merely north, leaving more easterly areas of northern Europe only sparsely populated. The bizarre scientific name seems to gather today several strands of Balkan folklore (tinyurl.com/VENT-Wright-Decaocto).
Woodpeckers
Great Spotted Woodpecker, Dendrocopos major: small numbers throughout, with excellent views of perched birds in the Friedrichshain and at the Teerofenbrücke north of Schwedt. This is by far the most abundant woodpecker in Europe, but shy—though not always.
Lesser Spotted Woodpecker, Dryobates minor: one of the scarcest of German woodpeckers, one individual of this reclusive species gave good views perched at the Teerofenbrücke.
Eurasian Green Woodpecker, Picus viridis: a very noisy individual let some of the group see it before disappearing at Charlottenburg.
Black Woodpecker, Dryocopus martius: one flew slowly past us at the Teerofenbrücke, a more or less reliable site for Europe's biggest woodpecker. The species name "martius," "of the god Mars," is another example of the attribution of numinous qualities to large woodpeckers (tinyurl.com/VENT-Wright-WoodpeckerGods).
Falcons
Eurasian Kestrel, Falco tinnunculus: common in the countryside, where we often saw birds hovering over open fields. Our best views were of a female on the banks of the Gülper See, hunting from a fence post and then huddling on the ground with the appearance of White-tailed Eagles overhead.
Shrikes
Great Gray Shrike, Lanius excubitor: one at the Teerofenbrücke. This is an easy bird to miss anywhere in Germany at any season. The species name, "watchman," refers to the bird's habit of perching high (as ours did) as if preparing to warn the other small birds—when in fact shrikes perch high in hopes of spying a small bird to eat.
Jays, Magpies, and Crows
Eurasian Jay, Garrulus glandarius: throughout, in the city and in the countryside; some years see massive flights of this species to the south, but numbers were less impressive this autumn. Most were seen in flight, but we had good views in the Friedrichshain, where oddly enough jays seem to associate humans with food. The species name refers to the bird's favored autumn snack, acorns.
Eurasian Magpie, Pica pica: fairly common out of the city, with a single bird seen flying high over the Friedrichshain on our last morning. This is a distinct species from North America's Black-billed Magpie, differing most signally in its voice.
Eurasian Jackdaw, Corvus monedula: so abundant over much of Europe, this diminutive crow is always oddly scarce on this tour. This year we glimpsed a single small flock from our bus on the way to the Gülper See.
Rook, Corvus frugilegus: a few scattered here and there in the countryside, but never seen at speeds below 90 kph.
Hooded Crow, Corvus cornix: common and conspicuous throughout, the bird whose voice we woke up to and retired to every day.
Carrion Crow, Corvus corone: a couple of birds in Hooded Crow flocks in the countryside. Berlin is a bit east of the breeding range of "pure" Carrion Crows, and most we see in the area are probably intergrades with Hooded Crows; indeed, the two have sometimes been considered a single species.
Common Raven, Corvus corax: scattered pairs and individuals on fields and over forested areas. The most impressive sighting had to be the single bird sharing its field with Great Bustards, providing a very dramatic measure of just how huge bustards really are.
Swallows
Barn Swallow, Hirundo rustica: very small numbers at the Teerofenbrücke and Gülper See. This is the latest of the swallow species to move south in the autumn.
Tits
Great Tit, Parus major: common and conspicuous throughout, and extremely tame in many areas, including the park at Charlottenburg, where birds happily came to the hand in hope of acorn fragments.
Eurasian Blue Tit, Cyanistes caeruleus: common throughout.
Bushtits
Long-tailed Tit, Aegithalos caudatus: seen well at the Gülper See. This individual had a fair amount of dark on the head, while birds from farther east are typically whiter.
Nuthatches
Eurasian Nuthatch, Sitta europaea: common in parks and woodlands, with the best views in the Friedrichshain and at Charlottenburg.
Treecreepers
Short-toed Treecreeper, Certhia brachydactyla: small numbers throughout, especially well seen in the Friedrichshain. This is often an extraordinarily difficult bird to identify in the field, but several of those we saw showed the wing pattern and bill length well and were quite vocal. The Common Treecreeper tends to be a species of coniferous forests at higher elevations. The reports of these two species in eBird should be treated with caution.
Wrens
Eurasian Wren, Troglodytes troglodytes: a singing bird seen well by most of us at Charlottenburg. At the moment, the old "winter wren" is now considered to comprise three species: this, the North American Winter Wren, and the North American Pacific Wren. It seems likely that several more species will be split off by the taxonomists in years to come.
Leaf Warblers
Common Chiffchaff, Phylloscopus collybita: seen in small numbers at several sites, and often heard calling. Our best views were at the Gülper See; two or three glimpsed on and off at Altfriedland were giving occasional snatches of the jangling metallic song, the inspiration for the name "collybita," which means "coin counter."
Sylviids
Eurasian Blackcap, Sylvia atricapilla: a male and a female seen beautifully together in the Friedrichshain on our first morning's walk. This big, chunky warbler is increasingly common as a wintering bird in northern Europe.
Chats and Flycatchers
European Robin, Erithacus rubecula: common throughout and unusually easy to see this year, with birds bouncing along on the paths in most of the wooded parks we visited. The received notion that the American Robin was named by homesick English colonists seems simplistic (tinyurl.com/VENT-Wright-RobinSkepticism).
Black Redstart, Phoenicurus ochruros: three or four female-plumaged birds on the bleak construction site of the U5 subway expansion.
Thrushes
Eurasian Blackbird, Turdus merula: very common throughout, and easily seen in the Freidrichshain and virtually all other wooded or brushy habitats.
Song Thrush, Turdus philomelos: only a few seen this year, with good views in the Friedrichshain and, more fleetingly, at Sans Souci.
Mistle Thrush, Turdus viscivorus: common overhead at the Gülper See and at the Teerofenbrücke, but we never saw this big brown thrush on the ground this year.
Starlings
European Starling, Sturnus vulgaris: abundant in the countryside; rather less common in the city, and there usually as high flyovers. The notion that starlings were introduced to North America because of a line in Shakespeare is almost certainly false (tinyurl.com/VENT-Wright-StarlingMyth).
Pipits and Wagtails
White Wagtail, Motacilla alba: surprisingly hard to find this year. There were a couple in the Friedrichshain on our first early walk, and two perched on the wires at our restroom stop on the way to Altfriedland.
Buntings
Yellowhammer, Emberiza citrinella: very good looks at two or three on the path at the Teerofenbrücke.
Reed Bunting, Emberiza schoeniclus: distant views of perched birds at the Teerofenbrücke. The weird species name has been used over the centuries for everything from wagtails to Dunlins.
Finches
Common Chaffinch, Fringilla coelebs: common throughout, most often seen shuffling along shady paths in wooded parks.
Hawfinch, Coccothraustes coccothraustes: a "down" year for this species, but most of us had views of three individuals at Sans Souci.
European Greenfinch, Chloris chloris: well seen, if briefly, at the Teerofenbrücke. Until recently one of the most common city birds in Germany, but trichomonosis has taken a significant toll over the past several years.
European Goldfinch, Carduelis carduelis: oddly scarce this year; the best views were a quick sighting at the Teerofenbrücke.
Old World Sparrows
House Sparrow, Passer domesticus: common throughout. Usually very wary, but in parks such as the Friedrichshain and Charlottenburg, some allow very close approach.
Eurasian Tree Sparrow, Passer montanus: a single bird in the gardens at Charlottenburg. This declining species is typically a country-dweller, but large parks and scrubby construction sites in Berlin often have a few. Unlike in the House Sparrow, the sexes are not distinguishable by plumage in the field; bizarrely, the only quite distantly related American Tree Sparrow was originally described as the female of this species.
MAMMALS
Rabbits and Hares
European Rabbit, Oryctolagus cuniculus: a small colony at the U5 construction site in the Nikolaiviertel.
Squirrels
Eurasian Red Squirrel, Sciurus vulgaris: hearteningly common and easy to see in city parks. Some in Charlottenburg have apparently developed a liking for denim.
Deer
Roe Deer, Capreolus capreolus: common in the countryside.
Bats
Bat sp., Myotis/Eptesicus/Pipistrellus sp.: half a dozen or more over the Friedrichshain on our last early morning walk. They seemed to be small but not tiny, probably ruling out pipistrelles.
BUTTERFLIES
Red Admiral, Vanessa atalanta: a few on warm days.
Peacock Butterfly, Aglais io: several at Altfriedland.
Small Copper, Lycanea phlaeas: several at the Gülper See.
The Reichstag, with tents going up for the celebration of German Unity Day — Photo Rick Wright

Well, it wasn't meant to be a quiz photograph, but this bird in Berlin's Tiergarten last week was just a little bit too fast for me.
What is it, and how do you know?

The world changed forever 100 years ago today, and not for the better.
How to trace the cataclysmic fall of western culture without trivializing the deaths of so many?
Let's try looking at the wartime career of a birder, namely, the jurist and amateur ornithologist Walther Bacmeister. Bacmeister was sent to the field at the age of 40, and served in the German army on both eastern and western fronts. In October 1916, he sent a poetic greeting, entitled "Draussen und Drinnen," to his colleagues attending the annual meeting of the German Ornithologist's Association:
For two full years, long ones and difficult / Our iron-hard defenses have stood armed out here. /  They are defending our dear fatherland, / surrounding it with a bronze cord. / Two years, and if it lasts that many years again, / All you enemies will still not attain your goal! / We stand firm in the howling of the storms, / We out here.

As the months come and go, / you at home have not been idle, / You have served, hardy, in silent strength / German science. / Keep building that proud firm structure, / Let it rise high into the blue of heaven, / And crown its cornices in spite of our enemies, / You in there!
After the poem was read to the assembled guests, Anton Reichenow led the cheer for "our ornithologists dressed in campaign gray."
Reichenow and Bacmeister and most of their colleagues were on the wrong side in a war that didn't have many right ones. As an officer, Bacmeister had a modicum of leisure to pursue his own interests, as when he was stationed in Strasbourg in spring 1917:
Whenever possible, my time off duty was used for ornithological observation…. When in the early morning of April 27, 1914, I rode through the lavish brush of the Rhine woodlands on the northeastern edge of Strasbourg, I thought to myself that this was a real willow tit landscape. Hardly had I had the thought when I heard the familiar and characteristic "däh-däh," which I had heard many hundreds of times before in Poland and in northeastern France — in the Argonne, the area of Verdun, and Champagne.
Infamous names in the history of European slaughter, rendered harmless by the presence of a gray parid.
Otto Kleinschmidt, the best known today of Bacmeister's ornithological friends, provided the best account — nearly in "real time" — of Bacmeister's collecting activities in the field. In an essay entitled "Miscellany on the Birds of the Enemy Territories Occupied by Us," Kleinschmidt reported that
The first war souvenirs for my collection were two strikingly gray crested larks from the District of Warsaw. They were followed by both willow and marsh tits, collected on the triumphant march from the Beskids to Brest-Litovsk. The kind donor was Bacmeister…. On January 20 I received my first French willow tit, again from Captain Bacmeister, who had meanwhile returned to the western front after the conclusion of the Serbian campaign. Now shipment after shipment came in from east and west alike. None went missing — this must be emphasized, to the honor of our field post offices — and no bird arrived in unusable condition…. A magnificent series of "war birds" was assembled…. Collecting proceeded according to a system, namely, the focus on material that would be most important for the comparison of the Russian and the French avifaunas.
In the course of a rare leave from the front, Bacmeister was also able to hand over to Kleinschmidt specimens he had collected earlier — meaning, I think, before the war — in France and Poland.
Kleinschmidt commemorated his gratitude to his friend and colleague in the name of a new race of the lesser spotted woodpecker, collected by Bacmeister in the Ardennes in March 1916.
Two males and one female are much more heavily marked than German, English, or north African specimens, such that this is the darkest European form…. I name these pretty birds Picus minor bacmeisteri.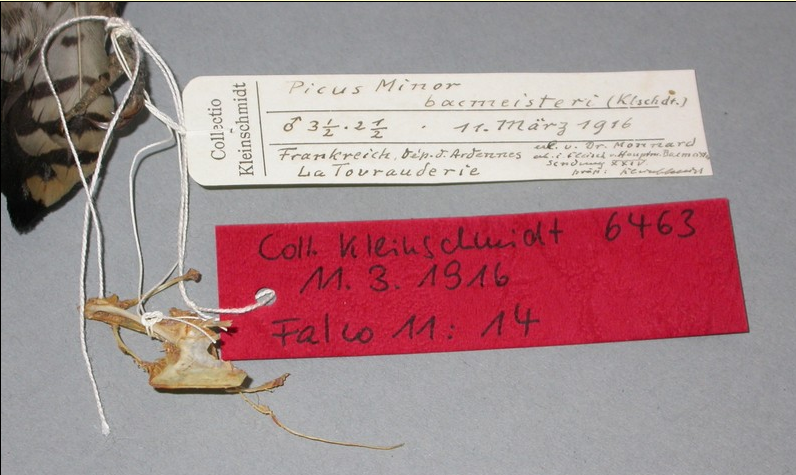 Kleinschmidt and Bacmeister together described another new taxon from birds collected in the Ardennes and Argonne.
Some of the long-tailed tits of eastern France have reddish upper eyelids in spring. Most are smaller than the subspecies europaea….
They named those birds Aegithalos caudatus expugnatus, "captured in battle."
In his published writings, at least, Bacmeister appears to have thoroughly enjoyed his war. In a summary of ornithological observations made in eastern Poland, he recalls that
after the happy conclusion of the Easter battle in the Laborez valley in spring 1915, my division and I crossed the ridge of the eastern Beskids…. We passed through all of Galicia from south to north. Unforgettable days! We and our Austro-Hungarian allies had taken back Przemysl and Lwów. As if enchanted, we wandered after many months of spare living through the streets of Lwów, which were thronged by happy, festively dressed people. A joyous welcome was prepared for us.
Bacmeister found his time in the "magnificent city" far too short, but
still it was enough time to pay a thoroughly enjoyable visit to the splendid collections of Count Dzieduszycki, none of which — this must be emphasized — had been damaged by the Russians. It was a great pleasure for me to write my name into the guestbook directly below the names of the Russian visitors. Times change!
Only rarely and incidentally do grim realities intrude:
I encountered considerable numbers of barn swallows in virtually every village and town. In many places their nesting locations had been destroyed by the war. We learned that the Cossacks had sent special troops to burn down the villages that they had occupied and then been forced out of; those troops went from house to house and set the thatched roofs on fire with torches. The fires spread quickly to the entire house and left not much more than the chimney standing. From September 8 to September 21 I encountered migrating house martins.
Unlike so many millions, Bacmeister survived the Great War and returned to a prosperous and busy life in Germany. His family was not so fortunate the next time around, however.
On October 13, 1949, Bacmeister — by then a retired state's attorney in Stuttgart — wrote to the president of the German Republic, Theodor Heuss, with "a request that is not my request alone, but shared by many who share my same grief."
Our only son, Arnold Bacmeister, married and 42 years old, a lawyer, has been a prisoner of war since May 1945. He was a paramilitary soldier in Berlin. For three long, long years we knew nothing of his whereabouts or even whether he was still alive. Then, in August 1948, we learned from three separate returning prisoners that he was still living: He was a prisoner in the Buchenwald concentration camp [which had been transformed into a prisoner of war camp by the Soviets after its liberation by the Americans], where he most likely still is, if he hasn't been sent somewhere else. He knows nothing of our condition or that of his wife, and cannot write; neither can we. This is psychic torture, for him and for us, and we can hardly bear the agony any longer.
Heuss replied, five days later.
Obviously, as you know, the power of the president is limited, and many Germans still live in the belief that all the head of the federal state needs to do is give a directive; they do not understand his authority and its complications. That dreadful fate that finds Germans still captive in the concentration camps of the eastern zone is well known to me from a long series of cases. The delicate position of the German Federal Republic with respect to the reconstruction of eastern and central Germany makes any concrete confrontation politically very tricky. Protest against this situation has, of course, already been registered by all parties. But I will be glad to take your letter as the occasion to raise this matter with Minister [Jakob] Kaiser.
The editors of Heuss's official correspondence fill in the rest of the story: Bacmeister wrote to the president again in July 1950, after learning that his son had been sentenced to 18 years of prison. Arnold Bacmeister was released sometime between 1955 and 1957; he would publish an autobiography two years before his death in 1994.
Even through those excruciating years, the elder Bacmeister continued to write about birds and birders, ornithology and ornithologists. The family history mentions more than 240 (!) publications, most of them on natural history. He published biographical sketches on Theodor Heuglin (of gull fame) and the great Chilean explorer Christian Luis Landbeck. Of greatest use to the researcher is his bibliography of ornithology in Württemberg through the year 1943,
What are we to think, almost 50 years after his death, of the life and career of Walther Bacmeister? He was a loving father and a member of the Nazi party. He was an ornithological historian and an officer in the armies that devastated northern France.
Nothing's ever simple, is it?
Wikimedia Commons