On May 16, 1818, Wilhelm Schilling encountered a small flock of this handsome tern for the first time on German soil. He collected one, and did not see the species again until June 1819, this time three pairs on the island Lips; this time he collected all six. A few returned to Lips the next year, only to wind up themselves on their backs in Schilling's specimen drawers. The next year, 1821, the species "was entirely absent from these localities," which led Schilling and his colleague Ludwig Brehm to conclude that
this is a nomadic bird on the islands of the Baltic Sea, which breeds there only occasionally and in warm, dry years.
On examining Schilling's specimens, Brehm recognized the bird as Montagu's Sterna anglica and Wilson's Sterna aranea — but he liked neither of those names, and so he gave it a new one, Sterna risoria.
Brehm explains the new species epithet as a translation of the name by which the bird was known on the island of Rügen, "kleine Lachmöwe," the little laughing gull.
It has a loud call, similar to human laughter, sounding like hähä or hä, which in its many variations expresses the bird's different moods. Schilling heard this call from those that he saw in May 1818. When he shot at one and missed, it climbed high into the air and seemed to want to mock the unhappy marksman with its laughter.
However suitable the name risoria, Brehm couldn't, of course, just go around changing things to tease his friends. In fact, this species had already accumulated a considerable stock of synonyms by the time Brehm's name was published in 1822; the earliest had been given it sixty years earlier by Linnaeus himself, Sterna nilotica, the Nile tern. 
But Brehm was not defeated. In 1830, he determined that the catch-all genus Sterna could profitably be split up, with the Gull-billed Terns occupying one of their own.He named the new genus Gelochelidon, the "laughing swallow."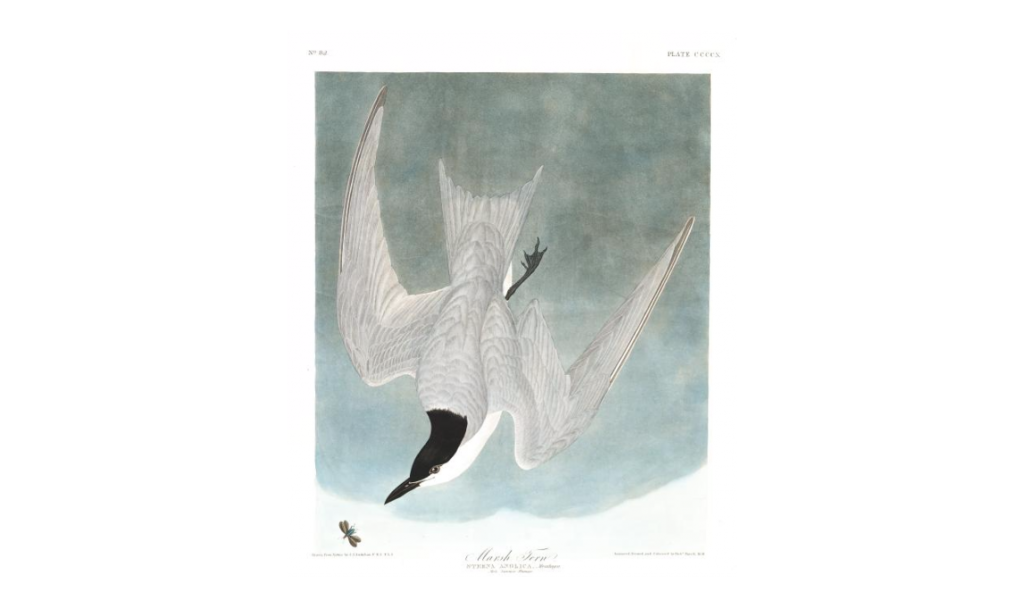 Even today, not everyone understands Brehm's genus name. I often hear it spoken, and even see it written, as if it were "Geochelidon," a hypercorrection first made in print by the great German and Cuban ornithologist Juan Gundlach. Gundlach doesn't explain himself, but I suspect that he, like some of our own contemporaries, thought of this elegant bird as a "ground tern" of sorts — after all, it doesn't dive, and even by tern standards, this species spends a great deal of its time loafing on mud and gravel bars.
It doesn't much matter. But getting the name wrong comes at a cost: the cost of the mental image of that lucky tern flying high over Schilling's head, filling the skies above Rügen with the sound of triumphant laughter.