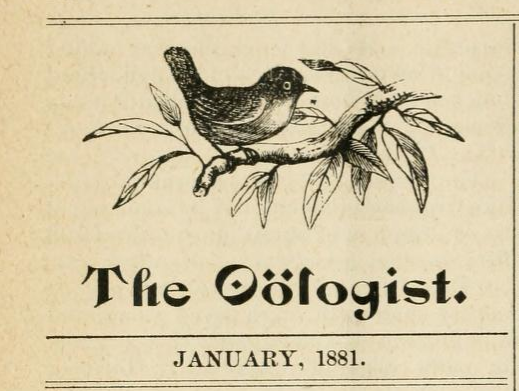 The first issue of The Oölogist for 1881 started out with a series of corrections, "as it is extremely desirable that our collectors should make no mistakes."
They shouldn't, but they did: the corrigenda listed here include a report of two nests and eggs of the Brant from Michigan; the account of Great Gray Owls breeding in Virginia; and a record of three "slightly incubated" clutches of Yellow-billed Magpie eggs taken in Colorado.
More than doubtful, but they had all passed the scrutiny of the journal's editor, Joseph M. Wade. Over at the Smithsonian, Robert Ridgway was more vigilant, and he wrote Wade privately on December 6, 1880, to point out how "astounding" such reports were:
there is quite certainly some mistake, which should be corrected.
Wade dutifully published an excerpt of Ridgway's note the next month. Here is the full text of the letter: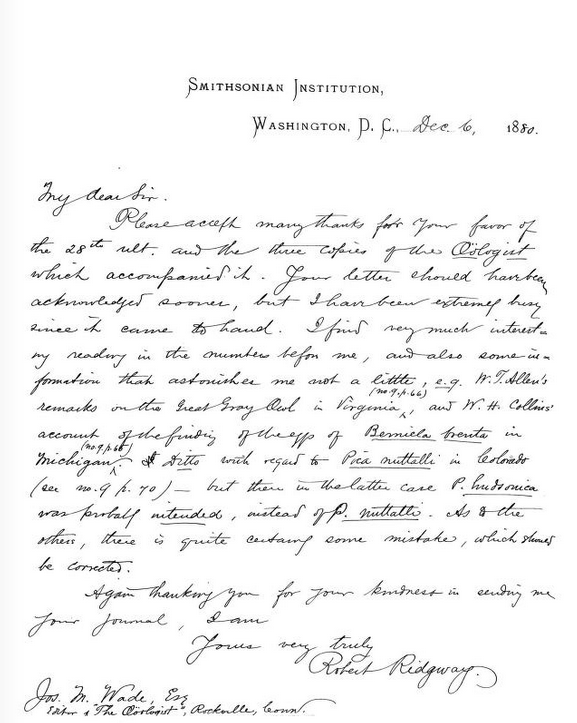 Letting ten days pass before answering a letter seems a venial trespass to me. Ridgway's mention of his being "extremely busy" seems to be the sort of thing most of us say most of the time, but in this case, we know — thanks to Dan Lewis's excellent Feathery Tribe — that the year had been an especially frustrating one for the ornithologist.
Ridgway's first major work as an illustrator had been on the first three volumes of the … History of North American Birds…. when he was then asked in 1880 to hand color the plates for the projected last two volumes, he exploded [to Spencer Baird]…. 'It seems to me hard to expect one who (excepting yourself) had by far the greatest labor to perform in the preparation of the work and this in the midst of engrossing duties, to thrive upon the rather barren honor of authorship…' [Lewis 55]
Of course, Ridgway kept such details to himself in his polite note to Wade. But it is still a measure of his concern for accuracy and the amateur that he took time from his museum work, his painting and writing, to nudge North American birding along just one little step more.