No one who has dallied in the pet section at Woolworth's will have any difficulty identifying these two creatures: the upper bird is a black-and-white mannikin, its companion a spotted munia. Neither is a sparrow, and only the munia occurs as a wild bird in China.
The mannikin, or at least the population depicted here, nigriceps, was first described by John Cassin on the basis of specimens from the collection of the Duc de Rivoli, purchased for the Academy of Natural Sciences in 1846. The munia had been long known at that point: Linnaeus gave the species its epithet, punctulata, basing his description on that in Edward's Natural History of Birds of 1743. Edwards's painting of the bird, which he called the "Gowry Bird … being sold for a small Shell apiece, call'd a Gowry," in the East Indies, places it in an unusual pose, apparently for compositional rather than behavioral reasons.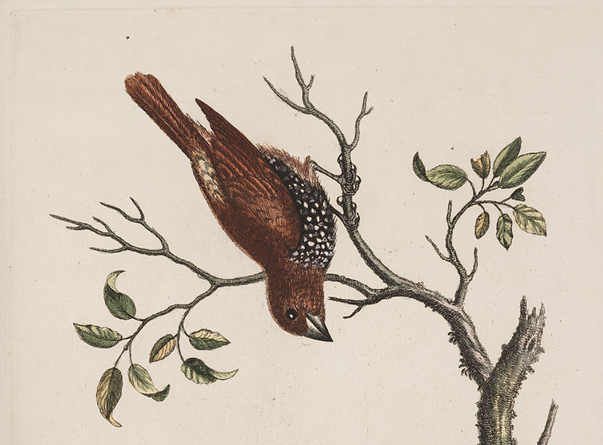 Edwards also tells us that this species was commonly kept in England in "Gentlemen's Houses"; the one he painted was in the possession of Charles du Bois, treasurer of the East India Company.
More to the point of the monthly puzzle, Edwards reports that Eleazar Albin, too,
figur'd a Bird something like this, and makes it the hen of another Bird he has placed it with; he calls it a Chinese Sparrow….
Edwards correctly doubts that the two birds on Albin's plate are conspecific — but that matters less to us than the fact that that image, first published in the 1730s, is clearly behind, at whatever remove, the calendar plate that started all this.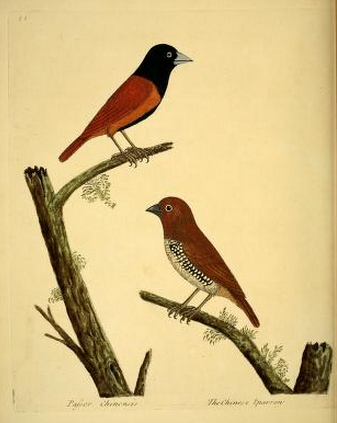 Albin drew his birds
at Mr. Bland's at the Tiger on Tower-Hill… they were brought from China in East-India by the Name of Chinese Sparrows.
We're still left to wonder who pirated the plate and added all those eggs. Maybe next month.