Archive for Recent Sightings
As if there were still any doubt, it's become apparent that this is a "good fall" in New York and New Jersey for the infinitely appealing Snowy Owl. This past weekend saw single-party single-day tallies of half a dozen or more at the usual coastal sites, from Long Island to Stone Harbor, and I'm eager to hear what the cumulative total of individuals is up to — and to see how many more drift down our way.
Whenever I hear reports of this species from our part of the world, I recall the slightly spoilsport words of John Bull in his edition of the Birds of the New York Area.
Present-day observers who see from one to six in a day's trip on Long Island and call it a "big" flight should bear in mind that their counts are insignificant when compared with the … flights
of 1890-9 1 and 1926-27.
During the former flight at least 20 were shot at Montauk alone in a two-week period prior to December 6, and over 70 were shot on eastern Long Island between November 24 and December 12.
The 1926 flight was even more impressive:
40 were killed on Fisher's Island alone in November and December, and a single taxidermist received 36 additional birds from eastern Long Island. At Long Beach, eight were shot on the morning of December 5, and at least 75 more were shot elsewhere in the New York City region.
Shot, of course, because they were big and white and weird and tame — no better reason than that.
New York's total for that flight was 495 birds seen or collected; interestingly, New Jersey had only 15, a number we're certain to exceed this time around. Maine had nearly 600 individuals, 82 of which are seen in this spectacularly macabre photograph of the Bangor shop of Fred C.N. Parke: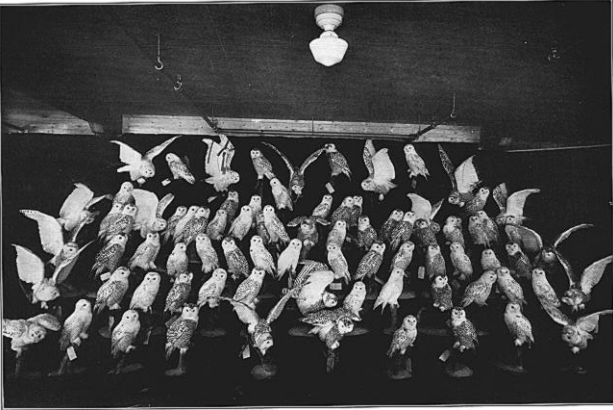 In general, I think this winter's snowies will find a friendlier reception. Hope so, at least.