Archive for Quizzes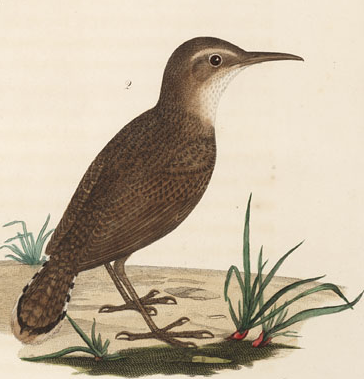 Here, from "the happy pencil of Mr Titian Peale" and engraved by Alexander Lawson, "justly styled the first ornithological engraver of [his] age," we have the Rocky Mountain Anteater.
"This bird," wrote Charles Lucian Bonaparte in 1825,
is one of those beings which seem created to puzzle the naturalist, and convince him that nature will never conform to his systems, no matter how perfect his ingenuity [in] devising them.
In his text, Bonaparte styles the bird an "antcatcher," a group (he calls it a "genus") more or less corresponding to what we now think of as the antbirds and woodcreepers of the American tropics. He explicitly rejects several earlier attempts to pin down this species' affinities — including Thomas Say's 1822 identification of the Colorado type specimen (probably skinned and put up by none other than Titian Peale) as a troglodytid,
a bird more closely related to the great Carolina wren of Wilson than any other.
On his voyage west in 1834, Thomas Nuttall was able to satisfy himself that Say had been correct and that the "antcatcher" was in fact a wren; Audubon followed Nuttall in adopting Say's name Troglodytes obsoleta. Jean Cabanis would later re-assign the bird to a new genus, Salpinctes, a name selected "in allusion," says Coues, "to the bird's loud, ringing song" (Cabanis, on the other hand, believed that the name was a proper noun denoting the Eurasian Wren).
By the time he published his Geographical and Comparative List in 1838, Bonaparte, too, had come around to accepting his antbird as a wren. We still agree today, and his Myiothera obsoleta is now known to the rest of us as the Rock Wren.
But I'm calling them anteaters from now on.