Archive for Bulgaria
Just what is the relationship between birding and bird photography? I know people who won't 'count' a bird unless they've got a good image of it, and I know, alas, many people who leave the identifying of their photos to the sometimes dubious expertise offered by one or another of the internet "forums."
I've ranted before about how twenty-first-century birding is on the path to overvaluing images and undervaluing thought; it's part of a greater anti-intellectualism, I suppose, and it's turning birding into something I don't recognize and don't much like. There is a very good, if slightly miscellaneous, article by Ted Eubanks about these problems in the newest issue of Birding; the author's call for a return to "intuitive birding" should be required reading for those who post their House Finch photos under the terse heading "Identify, please."
I wonder what the forums would say about these two images. I know what both birds are because I watched them, listened to them, took notes on them; but as usual, my pointing the camera at them was a tardy afterthought, and the images I got show it.
I suspect that this first one, of a bird singing in a small thicket on the Black Sea coast, is probably identifiable by someone who really knows her warblers.
Or maybe not. But knowing what it is, I can convince myself that I see the long, sloping forehead, the outsized bill, and the rounded tail of a Hippolais warbler; adding in habitat and range information, I suppose we can get to Olivaceous Warbler with some confidence. And that's exactly what the bird was, one of many we got to enjoy all across Bulgaria.
The second one is much harder. It's the only photo I got of the only member of this otherwise common species I saw this trip, and I'm not sure that anyone could make anything out of it. The bird was hunting in an open patch of woods near a couple of buildings.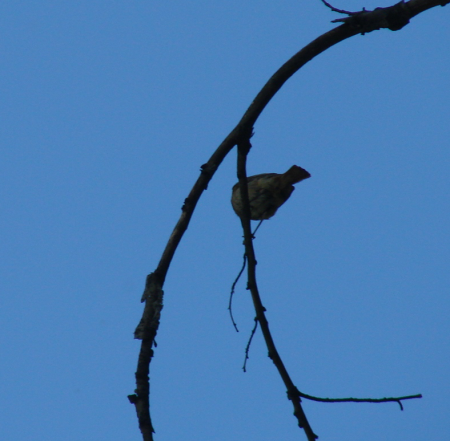 Clue number one: No, it's not a Mexican Chickadee.
Even knowing what the bird is, I'm stumped. The exquisitely slender tarsus suggests one of the 'booted' families, and rules out nicely such relatively clumsy groups as finches, sparrows, and tits; its length tells us we're not dealing with a swallow. The square tail, the slim tarsus, and the habitat might lead us to…. I'd better stop, because I can feel myself already beginning to cheat, dropping my Cartesian pose and getting all a priori here.
What do you think about this bird? It's an easy ID in the field, but is it even possible from this image?
[Answer: it was a Common Redstart.]