Archive for Information
The New Jersey Meadowlands were chilly and dim this morning, but the birding was a lot of fun anyway. There were impressive numbers of waterfowl on the marshes and impoundments, among them a dozen ruddy ducks, one of the few anatid species whose numbers in the mid-Atlantic seem to be declining.
Not only is this chunky, big-headed duck one of our most attractive, it also provides the answer to any number of birding trivia questions:
Which New Jersey duck is named for a Caribbean island?

Which duck lays the largest eggs for its body size?

Which male duck has ….
Well, we'll leave that one right there. But there's still the matter of this captivating species' official English name, a name commemorating only a briefly held plumage of only one of the sexes and far less evocative than almost any of the dozens of other, popular names this duck has borne.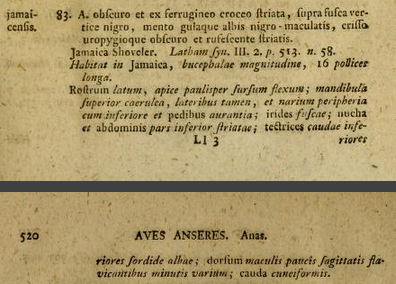 The canonical diagnosis of this species was published by Gmelin in 1788, who named it Anas jamaicensis:
A duck barred dusky and rusty yellow, sooty above with a dark crown, the chin and throat white spotted with black, the vent and rump barred dusky and reddish.
Obviously, Gmelin did not assign this duck the English name "ruddy," but he does cite an earlier description, in John Latham's General Synopsis. Gmelin, it turns out, had simply translated the English account, which Latham based on what sounds like a non-breeding male. Neither ornithologist, obviously, had any notion of the spectacular breeding plumage of the species; indeed, Latham tells us expressly that his Jamaica specimen was taken in the winter, when ruddy ducks aren't.
And now things get interesting. If we move forward through the editions of the Systema, we find the name "ruddy duck" in Turton's English translation of 1802 — where it's applied to a different bird.

This is clearly a description of the ruddy shelduck; for our bird, Turton — like Gmelin — uses Latham's rather unimaginative "Jamaica shoveler," a name that we might still be using today had Alexander Wilson not made what he thought was an exciting discovery in Peale's Philadelphia museum: a
very rare Duck was shot, some years ago on the river Delaware, and appears to be an entire new species.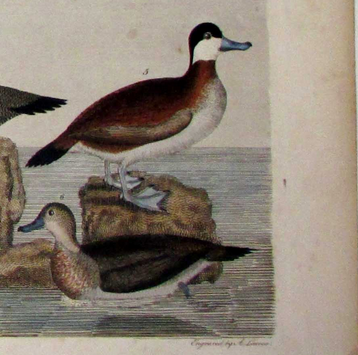 Wilson was "at first inclined to believe" that his new duck was identical with Latham's Jamaica shoveler,
but a more careful examination of both satisfied me that they cannot be the same, as the present [species] differs considerably in color…. front, crown, and back part of the neck down nearly to the back [are] black; rest of the neck, whole back, scapulars, flanks and tail coverts deep reddish brown, the color of bright mahogany.
That description confirms what Wilson's engraving already demonstrates: namely, that one of Peale's birds was a male in his bright breeding plumage. I think we can forgive Wilson his error in deciding that the Philadelphia ducks were "non-descript," a deficiency he remedied by naming them himself in the pages of the American Ornithology.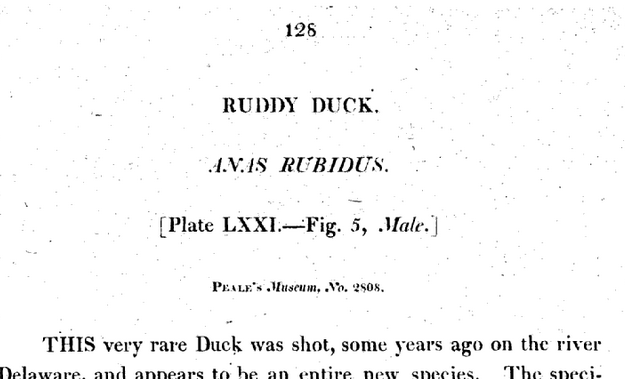 The drake's mahogany upperparts were so striking that Wilson memorialized them in both the English and scientific names he assigned the species. And the names themselves seemed so apt that Latham's "Jamaica shoveler" essentially disappeared after 1814.
Anas jamaicensis, however, would survive. Unlike vernacular names, scientific names are governed by the law of priority — also known as dibs: as soon as two "species" are known to be one, the first binomial is applied. So who figured out that the Jamaican shoveler and Wilson's Pennsylvanian duck were the same?
Stay tuned.