Archive for New Jersey Birding
It's October now, and they're everywhere here in northern New Jersey, woods and thickets and messy backyards full of their homely little tock notes.
Yellow-rumped warblers are so abundant and so familiar that we can forget that they had to be "discovered" for European science. But it should be easy enough to find out who deserves credit for shooting and describing the first one.
Shouldn't it?
The first western scientist to apply the name "yellow-rump" to a parulid was, unsurprisingly, Mark Catesby. Catesby's description , however, of his Virginia specimens is remarkably scant:
This is a Creeper, and seems to be of the Tit-kind. The most distinguish'd Part of this Bird is its Rump, which is yellow. All the Rest of the Feathers are brown, having a faint Tincture of Green. It runs about the Bodies of Trees, and feeds on Insects, which it pecks from the Crevises of the Bark. The Hen differs little from the Cock in the Colour of its Feathers.
None too informative, is it? Fortunately, Catesby's plate should clear things up.
Or so one might think.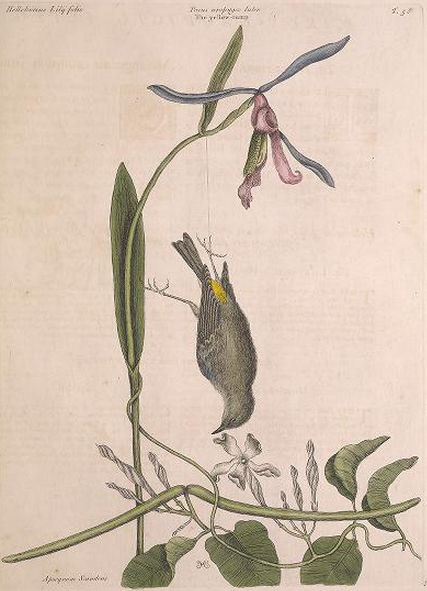 Recently, most ornithologists have been content to identify Catesby's yellow-rump with our yellow-rump, the bird now known as Setophaga coronata; it's as good a guess as any, though I often wonder whether we might not be looking at, and Catesby describing, one of those so dull Cape May warblers one runs into this time of year.
What we do know is that Linnaeus, who named so many organisms in reliance on Catesby's Natural History, did not believe that Catesby had depicted coronata, which the Archiater described instead from a handsome and well-detailed plate by George Edwards (whose Motacilla corona aurea was, of course, the inspiration for the Linnaean name).
Edwards, too, another of Catesby's closest readers, failed to recognize in the old "yellow-rump" the warbler he, Edwards, was describing; indeed, he says in 1760, 28 years after the first publication of the Catesbeian plate, that
these birds, I think, may safely be pronounced non-descripts,
that is, members of a species not yet formally described to science.
What do you think? Is Mark Catesby's "yellow-rump" a yellow-rump?