Archive for New York
Weird ducks, weird names.
Nobody knows where the English word "scoter" comes from, whether it shares an origin with verbs like "shoot" and "scoot" or with the equally obscure waterfowl name "scout." Lockwood's rather fanciful explanation that the word is a scribal or printing error for "sooter," in allusion to the birds' swarthy plumage, falls hard against the fact that there is no attestation for any such English word.
I can live with that uncertainty. As I watched this handsome bird at Sandy Hook this morning, though, I started to wonder something else: What's so surfish about the Surf Scoter?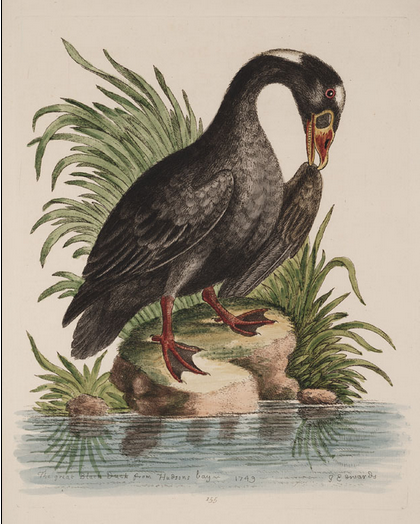 Linnaeus based his Anas perspicillata on the handsomely spectacled bird Edwards called, descriptively enough, "The Great Black Duck from Hudson's-Bay." Edwards had his specimen from James Isham, agent of the Hudson's Bay Company in Canada; this big, dusky duck was one of no fewer than eight undescribed birds Isham brought back to England.
Edwards is at pains to note that though this species had never been formally described, it was apparently not entirely unknown:
My Friend, Mr. Henry Baker, F.R.S. hat a Bill of this Bird in his Collection…. I think I have discovered a Draught of it, in a small Set of Dutch Prints of Birds, (published at Amsterdam by Nicola Visscher, Anno 1659, where it is called Turma Anser)….
"Squadron goose" is a good name indeed for this or any of the scoters, which tend to move in large, well-regulated lines; but this isn't getting us anywhere near the modern English name. Neither does Buffon's "macreuse à large bec," the "big-billed coot-duck." (I hope someone can tell me why it is also called "marchand.")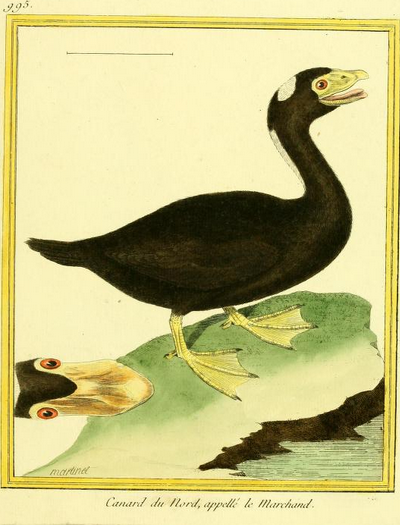 Calling this duck "black," or even "great black," was certain to lead to confusion, of course; consider this page from Pennant's Arctic Zoology, where our Surf Scoter is called the "Black Duck" and our Black Scoter is called the "Scoter Duck."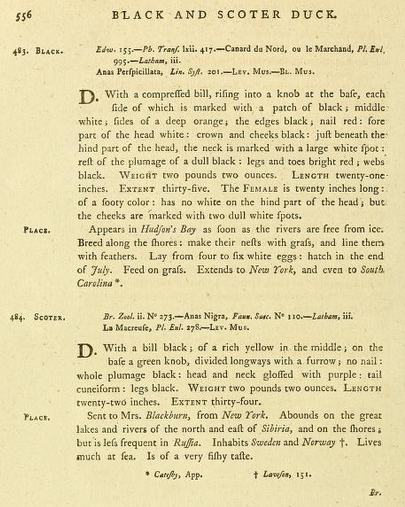 As far as I know, the first time the name Surf Duck appeared in print for this species was in 1814, in the eighth, posthumous volume of Alexander Wilson's American Ornithology.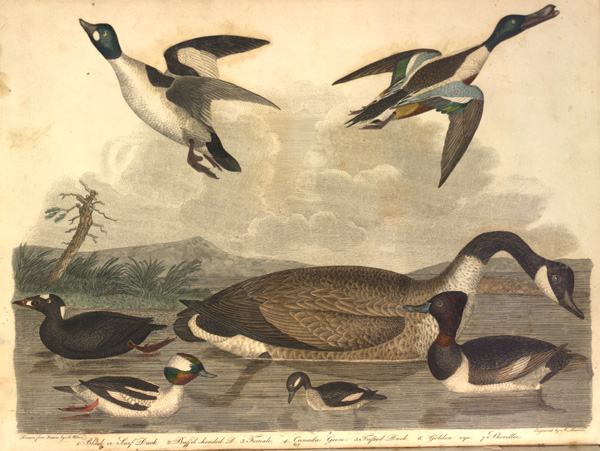 George Ord, the author's literary executor, assures us that "the historical part of the present volume was fully completed and printed off … under the superintendence of the author," and so we can assume that the header for the species account was Wilson's own: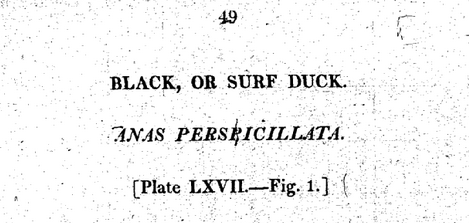 Wilson's text does not give the impression that he coined the name, as it often does when it introduces a neologism; he provides no explanation beyond the incidental remark that
this Duck is peculiar to America, and altogether confied to the shores and bays of the sea, particularly where the waves roll over the sandy beach…. they dive almost constantly, both in the sandy bays and amidst the tumbling surf.
In his Manual, Thomas Nuttall simply adopted Wilson's English names, right down to that slightly fussy comma:

It would be another Englishman who, just a year after the publication of Nuttall's work, gave us the form "Surf Scoter" — and the explanation of the name. Prideaux John Selby, a would-be rival of Audubon's and collaborator of William Jardine, accounts this bird among the "stragglers, or rare visitants" to Great Britain, and includes its portrait, stiff and floating ever so slightly above the water, in his Illustrations of British Ornithology.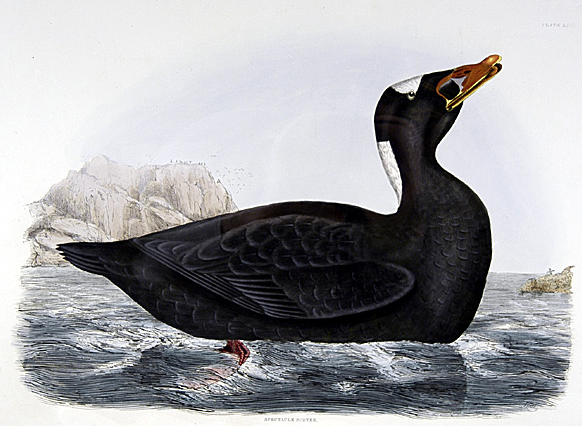 If you look close, you'll see that the plate is labeled "Spectacle Scoter," a translation of the latinizing epithet perspicillata. But Selby's text is proudly headed "Surf Scoter," and he goes on to explain why:
It is always seen upon the water, and very frequently amidst the heaviest surf, in which it appears to delight, and to sport quite at ease; and on which account it has obtained in America the trivial name of the Surf Duck.
Selby buries this remark in the middle of material from the American Ornithology, but there's nothing in Wilson's text to back up the Englishman's assertion. Instead, he was more likely relying on a colorful passage in George Shaw's General Zoology, where it is said of  the "Great-beaked Scoters" — Buffon's name, Englished — that
they are shy birds, and delight in diving about amongst the impetuous surf.
In the same year that Selby published his Illustrations, John James Audubon painted a duck that he called the "Butter-boat-billed Coot." When the engraving appeared a few years later, it was labeled with the less extravagantly vernacular Wilsonian names.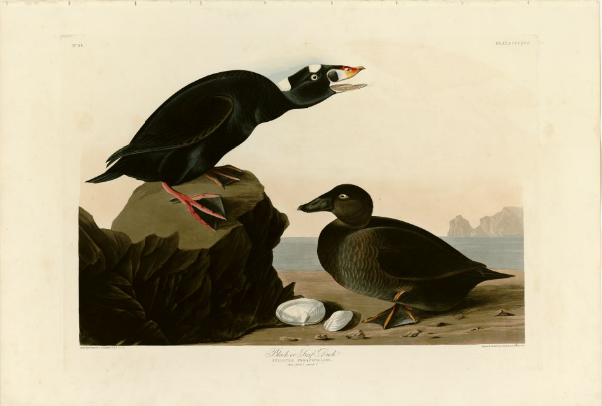 Audubon's text, published separately from the engravings, reduces the options to one, "Surf Duck," following the usage of the Fauna boreali-americana. Once sanctioned by such high authorities, that name quickly became the standard, and it was "Surf Duck" in Eyton's Monograph and in Baird's Birds; only Audubon's collaborator William MacGillivray seems to have adopted Selby's name Surf Scoter and his justification for it:
it dives in shallow water, often even amidst the breakers, whence its name….
As late as 1894, Elliott Coues was still calling this bird the "Surf Duck"; confusingly (and uncharacteristically), Coues also used that term as a synonym for the entire genus Oedemia, thus making his Surf Duck a species of — surf duck.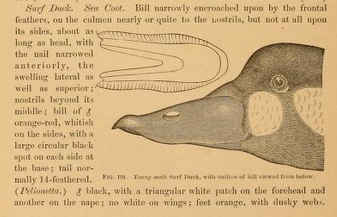 Not until the magisterial Fifth Edition of the Key (published after Coues's death) was Surf Scoter added to the list of English names, where it was given first place.
I suspect that it was the confusing polysemy of the name "surf duck," applied to both a genus and a species within that genus, that eventually cemented the use of Surf Scoter for our bird.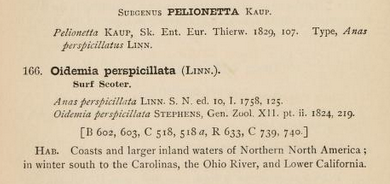 While Ridgway was still writing "Surf Duck" in 1881, the American Ornithologists' Union's checklist committee — of which both he and Coues were members — called the bird Surf Scoter from the very beginning. We still do today — most of us, anyhow.
True "folk" names for the birds of North America have become very rare, but if they persist anywhere, it is among duck hunters.
"Skunk head" seems to be the most durable (and the most self-explanatory) of the homegrown alternatives, but there have been many others over the years. Turnbull, writing almost a century and a half ago, still knew these:
horse-head coot, skunk-bill, bald-pate, skunk-top, surfer, google-nose, patch-head, patch-polled coot, white-scop, muscle-bill, pictured-bill, snuff-taker, speckled-bill coot, spectacle coot, Morocco-jaw, white-head, bay-coot, blossom-bill, blossom-head, hollow-billed coot, and pishaug.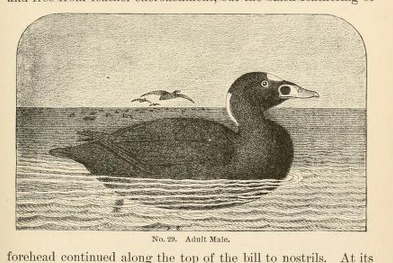 I like all those names, a lot. (Especially "snuff-taker, the drake's variegated beak reminding duckers of a careless snuff-taker's nose"!). But no matter how contrived the name, I'm happy to live with Surf Scoter, especially as long as I can keep living with Surf Scoters.