Archive for France
John Cassin was famously no friend of the practice of naming birds for people. Squabbling gently with his friend and colleague Spencer Baird over the naming of a new vireo, he wrote that
this kind of thing is bad enough at the best, but to name a bird after a person utterly unknown is worse.
There are plenty who agree with him today, and there were plenty who agreed with him in the mid-nineteenth century, when the rage for birdy patronyms was at its height. In 1839, for example, the baron de La Fresnaye expressed his own displeasure at the practice — even as he indulged in it himself. In naming a new American bird for the wife of a Bordeaux collector, La Fresnaye protested that
our sole intention in dedicating this species to Mme Brelay has been to pay tribute to the very special enthusiasm with which she herself has engaged in ornithology and collaborated with M. Brelay in forming his collection, which already includes many thousand individual birds.
But the lady ornithologist was an exception.
We by no means approve of the custom of giving new birds the names of women who are often enough entirely without any interest or expertise in ornithology; though the author of the name may be bound to them in friendship or family relations, these women can be of no interest to the larger circle of naturalists. We believe that the application of a proper name to a bird is in fact acceptable only when it commemorates that of some naturalist, author, explorer, painter, or zealous collector who has already rendered or is in the course of rendering some service to science.
La Fresnaye's few flattering words are essentially all we know about the Brelays' ornithological pursuits. Some of their specimens are still preserved in the Museum of Comparative Zoology, and the family historians are at least able to provide Mme Brelay's dates of birth and death, but I fear that the bigger story was lost while the collections passed from the Brelays to La Fresnaye to the Verreaux brothers to the Boston Society of Natural History to, finally, Harvard.
Oh: the bird. Mme Brelay was immortalized 175 years ago in the species epithet of the rose-throated becard. Not a bad bird to lend one's name to, not at all.

Tomorrow marks the 150th anniversary of the death of Alfred Malherbe, one of those great French amateurs to whom we owe so many collections — and so many pretty books.
Malherbe was born on Mauritius on Bastille Day 1804, but returned with his family to their native Metz, where he was appointed to the bench at the age of 28. His real passion, though, was natural history, and over the last two decades of his life he served as director of the Metz museum and president of the Société d'Histoire naturelle de la Moselle, the eventual heritor of his own extensive collections.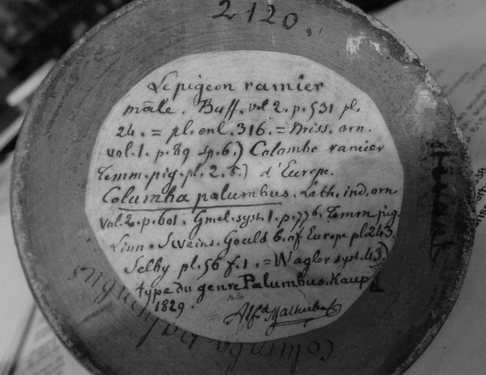 Malherbe is most famous today — if he is famous at all — for his Monographie des picidées, published in four volumes between 1861 and 1863.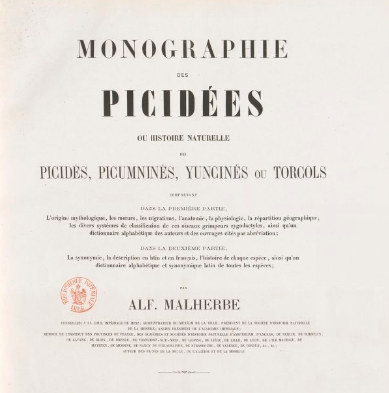 More than 15 years in the making, the work was greatly lauded on its appearance. Félix Guérin-Méneville greeted the first livraison in the pages of the Revue et magasin de zoologie:
One can find nothing more beautiful than this work by M. Malherbe, and one can confidently state that in the perfection of its execution it exceeds anything that has been produced up to now in France or abroad.
The plates, prepared from paintings by Luc-Joseph Delahaye and others, Guérin-Méneville called "magnificent … of an accuracy and truthfulness in color and form such as one rarely finds in the most luxurious of works." All of the considerable number of new species described by Malherbe are depicted the size of life.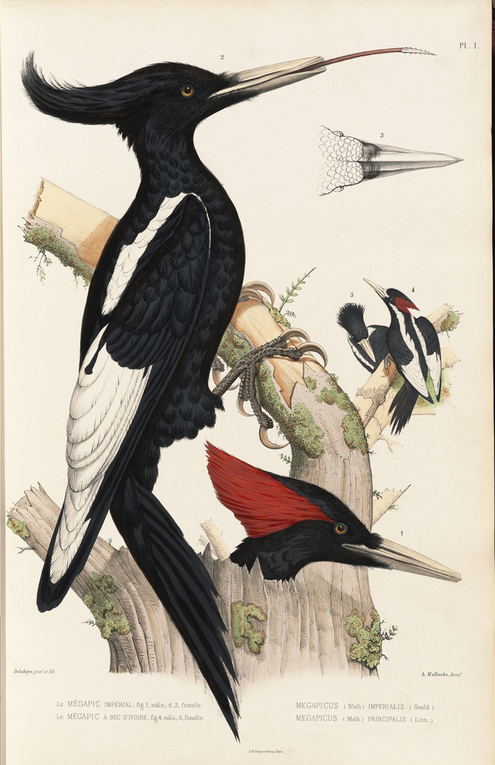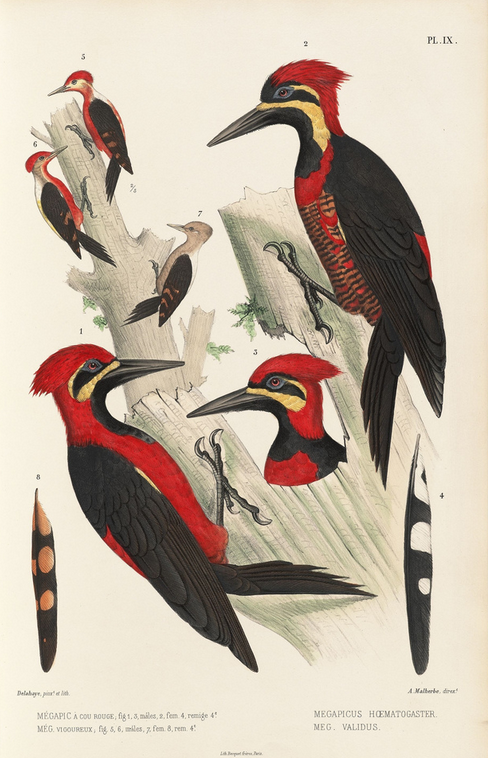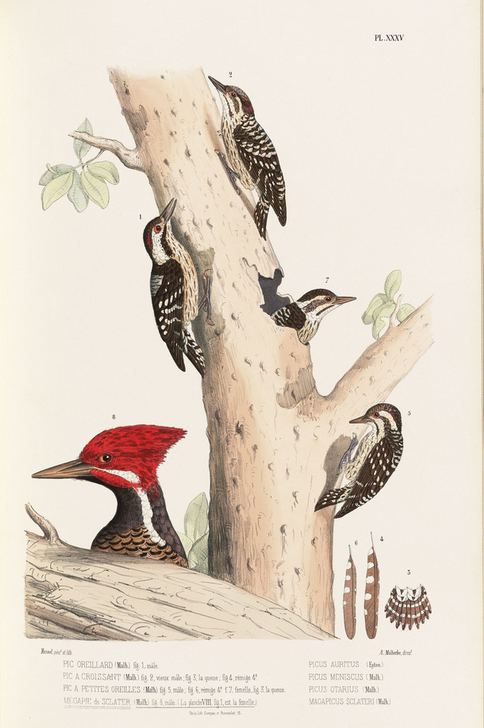 Charmingly, and invaluably, Malherbe begins his text volumes with two chapters treating of woodpeckers and people — a subject worthy of an entire book in itself. We learn about Picus and Canente, Picumnus and Pilumnus, and the powerful love philtre known as jynx. Malherbe collects stories of superstition from the Romans to his own nineteenth-century day, accounts of the medical and venatorial use of woodpeckers and their parts, and, naturally, tales of rustic feasts built around the flesh of picids,
which they even claim is delicious…. But having been so curious ourselves as to taste the flesh of French great spotted and green woodpeckers, we share the judgment of Audubon … who affirms that the flesh is detestable, that it tastes strongly of formic acid and is extraordinarily disagreeable….
They may not be tasty, but Malherbe takes a firm stance on woodpecker conservation.
If one considers the terrible ravages committed in orchards, forests, and farms by the innumerable myriads of insects in their terrible swarms, one can ask whether on balance the woodpeckers, far from being harmful, are not rather extremely useful to the owners of forest and field by devouring an immense quantity of larvae, caterpillars, and insects of all kinds every day, particularly when they are feeding young…. Count up the number of fruit trees, especially peaches, that perish from [insect damage], and you will become indulgent of these birds that are the principal destroyers of such insects.
Gone, happily, are the days when there were bounties on the heads of sapsuckers and other woodpeckers — in part, perhaps, thanks to the beautiful work prepared by Alfred Malherbe.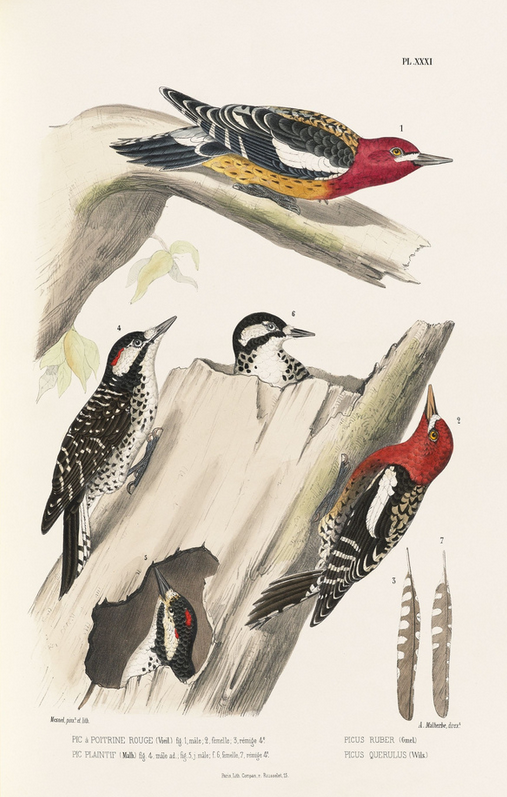 Auguste Ménégaux, who died on this date 78 years ago, was in Le Havre when war broke out in 1914.
A magnificent collection of living hummingbirds from South America, in very good health, arrived at the very moment that war was declared. The poor birds were neglected, and they all died on board the boat before reaching Paris, to the great dismay of their owner and collectors.
The business suffered setbacks in London, too, where
many collectors have been able to sell or trade their objects only at very low prices.
And who knows, Ménégaux asks ominously, what may have happened to the trade in live birds and specimens in Wallonia and Belgian Luxembourg.
We tend to think of the end of consumptive natural history hobbies as the result of a new ethic, the cultural abandonment of practices finally recognized as barbarous. But in fact there were other causes, not the least of them the First World War and the attendant breakdown of the international networks of collectors.