Archive for Book Reviews
Remember when one absolutely essential book for the birder appeared almost every year?
Those days are long, long gone. This year, like so many before it, has seen the publication of a whole shelf's worth of titles any birder would be happy to own and read and use. It's impossible to choose just one, and almost painful to name just ten, but perhaps these recommendations, drawn only from books published in 2013, will help those of you in search of a token of affection and esteem for some birder in your life.
Dickinson, E., and J. Remsen, eds. Howard and Moore Complete Checklist of Birds of the World. 4th ed. 2 vols.
There's nothing like a good checklist on a cold winter's night, is there? Most birders will probably use these large-format volumes just for keeping track, but there's real taxonomic work going on between the covers here: Appendix 2 in the first volume (non-passerines), for example, includes First Revision for half a dozen taxa, and the footnotes are a treasure for the curious reader. Volume I has been available for a little while now, but you may have to wait a few weeks more for Volume II, which covers the order Passeriformes.
Flood, B., and A. Fisher. Multimedia Identification Guide to North Atlantic Seabirds: Storm-petrels and Bulwer's Petrel.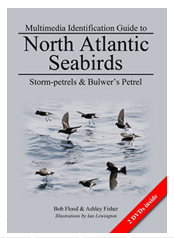 This much-more-than-book is a model for the field guide of the future, combining these vastly experienced authors' texts with two hours of video of every species treated, including invaluable footage of these mysterious birds at sea doing what they do. Though its title suggests a usefulness limited to those of us in Europe or on the east coast of North America, the principles of identification demonstrated here are applicable to seabirding anywhere in the world.
Sweet, P. Extraordinary Birds: Rare Book Selections from the American Museum of Natural History.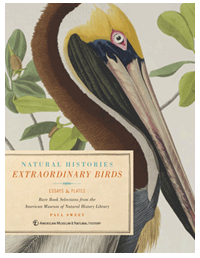 Another multimedia beauty, this handsome work by Paul Sweet offers 40 fine reproductions from ornithological works famous and unjustly not, each plate accompanied by a thoughtful and informative essay. Birders will love it, but so will anyone interested in the history of art and illustration.
Beolens, B. A-Z of Birds: A Birder's Tales from Around the World.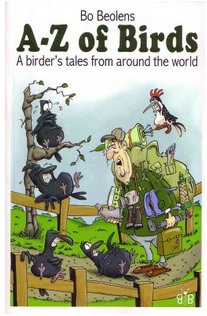 The author brings all of his trademark charm and humor to bear in a delightful alphabetical memoir, combining the lighthearted and the thoughtful to make a really appealing book.
Cocker, M., and D. Tipling. Birds and People.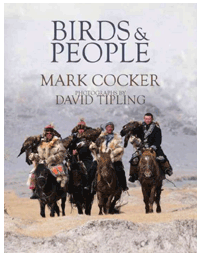 Here it is: the one book of 2013 for every birder. Over our entire existence, people have been loving, eating, hating, watching, fearing, worshiping, and admiring birds. Beautifully written and beautifully illustrated, this impressive volume explores the role of the bird in superstition, religion, custom, and lore around the world, with a very welcome concentration on the present: yes, it provides an impressive mass of historical information, too, but the real delight is in the book's capturing of the ways people everywhere think about birds today. Cocker's prose and Tipling's photo are moving, amusing, inspiring, and shocking. You'll start out browsing, and end up reading.
Stephenson, T., S. Whittle, and C. Hamilton. The Warbler Guide.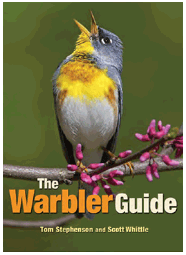 A book about warblers that is as colorful as the birds themselves, this volume stands in a long and proud tradition of works devoted to the parulids of the US and Canada. With its pronounced focus on vocalizations, it brings that tradition full circle, echoing — with far greater technical sophistication — the impulse behind Lynds Jones's monograph on the warbler songs, now more than a century old.
Del Hoyo, J., et al., eds. Handbook of Birds of the World: New Species and Global Index.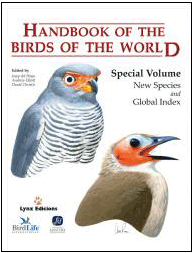 This lovely and ambitious series reaches a conclusion with a bang. Far from just a clean-up-and-catch-up volume, this last of the HBW joins accounts of a large number of newly discovered and newly described species with a complete index and a selection of startlingly beautiful photographs. As handsome as the now seventeen volumes are on the shelf, the entire work may be more convenient (and is significantly less expensive) on line, where it is at long last available by subscription.
Jameson, C. Looking for the Goshawk.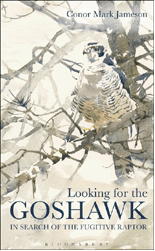 Predictions are nearly as dangerous as recommendations, but here is a book that has every potential to become a classic. Jameson is in perfect control of his prose, and there can hardly be a more appealing subject for good writing than the gray spirit of the forests. Raptor fans will read this book whatever the reviewers say, but it is more than worth the time for anyone interested in birds, conservation, and good writing.
Fuller, H. Freeway Birding: San Francisco to Seattle.
Bird-finding guides are supposed to be no-nonsense, utilitarian little books, and this one does a great job of getting you to the birdy places up and down one of the US west coast's busiest and most beautiful corridors. But Fuller also takes the time to fill us in on wildflower festivals, the strange life of the wrentit, and the career of the man for whom the MacGillivray's Warbler is "really" named. Essential if you happen to live out that way, this book is also a fine model for anyone pondering the writing of something like it for any region.
Olson, R. Audubon's Aviary.
I would have quashed that title right away. But this is far and away the most important book-length contribution to the history of North American bird art of the year, a beautiful and informative volume accompanying an even more beautiful and informative series of exhibitions at the New-York Historical Society. Olson, curator of those shows, treats Audubon's watercolors — not, mark well, the prints produced from them — with subtlety and skill, and even those of us who "know" the American Woodsman will be amazed by what we come away with after reading and admiring this book.
What else is on your list — to give or to receive?
Click on any of the images to buy the book.