Archive for Ecuador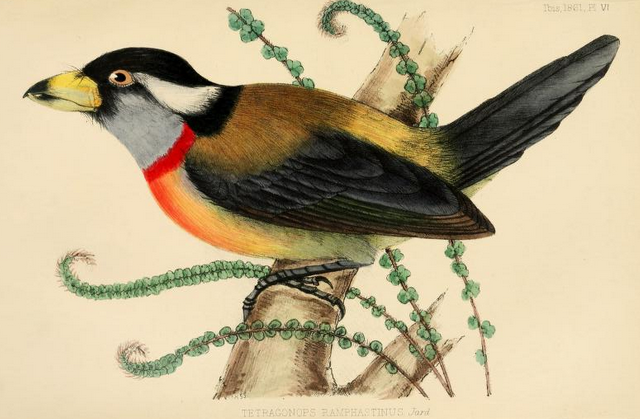 It's ungrateful of me, I suppose, to look back on my trips to Ecuador with even the least regret: but how I wish I'd had better looks at the stunning Toucan Barbet.
It was in September 1854 that William Jardine received the first specimen of this spectacular Andean beauty, shot in Nanegal by the botanist William Jameson. Jardine described this "very remarkable form" in 1855, calling it Tetragonops ramphastinus, the epithet marking the species' apparent relationship to the toucans and the genus name, "square face," calling attention to the bird's "remarkable" bill,
 which is very powerful, and almost square at the base.
A drawing of the bird from the hand of Catherine Strickland — daughter of Jardine, niece of Audubon's erstwhile engraver William Home Lizars, wife of the great ornithologist Hugh Edwin Strickland — appeared in 1856; Sclater would republish it, colored, five years later in the Ibis.
All was well. Until, that is, Charles W. Richmond at the Smithsonian happened to recall that in spring of 1855, six months before Jardine's publication, the German entomologist Carl Eduard Adolph Gerstäcker had a described an angular-headed beetle under the name Tetragonops, making that genus name "preocuppied" under the law of taxonomic priority and leaving the field open for a new one for both this bird and its closest relative, the Prong-billed Barbet.
Richmond seems to have been in a playful mood in 1899, and he proposed as the replacement the genus name Pan, "a mythological god of the forests," a knowing nod towards both the bird's habitat and the difficulty of finding additional specimens.
Oops.
Pan, too, turned out to be preoccupied, assigned almost a century earlier to the chimpanzees. So it was back to the nomenclatural drawing board, and Richmond emerged from his study with a brand new, decidedly not preoccupied name for this bird.
Semnornis. It's a funny-sounding name, but Richmond, whose interest in names and naming was responsible for perhaps the most useful stack of index cards in all of history, dutifully recorded the etymology of his coinage:

Is there anything the least bit solemn about the Toucan Barbet? As Strickland's plate well shows, this is a very bright, even gaudy bird, distinctive in "the abnormal distribution of [its] colors, which strongly reminds one of some of the Toucans," as Sclater puts it. And its voice, like a Johnny Cash bass line played on a distant calliope, is anything but sober, especially when the members of a pair duet with each other through the forest. Jean Cabanis, pondering the relationship between the barbets and the toucans in the 1840s, even called the former "lively," an exaggeration, perhaps, but a clear contradiction of the sedate behavior implied by Richmond's slightly depressive name.
I don't have a well-documented answer to this puzzle, but I do have a suspicion. Maybe the name Richmond finally settled on wasn't meant to be descriptive at all. Words don't always have to refer to things or phenomena; as anybody who went to graduate school in the 1980s knows, words also (or, depending on what department you were in, only) refer to other words. And what's true of words is even truer of names — especially when the names are part of a sly inside joke.
Charles Wallace Richmond and Theodore Sherman Palmer led closely parallel careers in Washington. Both born in 1868, both men joined C. Hart Merriam's Division of Economic Ornithology and Mammalogy at the age of 21. In 1894, Richmond became Assistant Curator of Birds at the US National Museum; Palmer was appointed Assistant Chief of Merriam's division of the USDA in 1896.
It was Palmer, more than a decade in to the project that would result in his and Thora Stejneger's thousand-page Index generum mammalium, who pointed out to his colleague over in the Smithsonian Castle that Pan already belonged to the apes. Without knowing anything more about the professional or personal relationship between the two, I can imagine a circumstance in which Richmond's Semnornis was a humorous riposte, a poke perhaps at the solemnity of Palmer's correction (McAtee's obituary makes him sound more than a little obsessive) and at the same time a play on the monkey name Semnopithecus, as if to say that Richmond might not be entitled to one of Palmer's "sacred apes," but he would content himself with another "solemn" name.
None of Richmond's cards preserves any evidence of a joke, but until I hear a better story, this is the one I'm going to tell myself. Next time I'm in Ecuador, maybe I'll ask the barbets what they know about it all.