Archive for Louisiana
The Lafayette Convention was memorable in many ways, but the experience that has burned itself into my mind was the bittern show at Lacassine National Wildlife Refuge.
Strictly speaking, we were poaching a bit on other trips' turf when we arrived there for lunch on the first day; but our conscience was quickly salved by the sight of an American Bittern posed motionless in the ditch. And then another flew out of the marsh, and then another…. And by the time we had finished our quick lunch (to the musical accompaniment of Black-bellied and Fulvous Whistling-Ducks and [slightly less musical!]Â Purple Gallinules), we had had no fewer than nine flyovers by this normally secretive and always scarce heron.
The experience was repeated on each visit, often with two or three American Bitterns in the sky at once. But Saturday's trip took the cake: not only did we have (ho-hum) nearly a dozen flyovers of that species, but beautiful close-up views of two Least Bitterns, in flight and perched in the rushes, giving me my best bittern day ever by far, and one of the richest ciconiiform lists I'd ever accumulated: besides the two brown beauties, we also recorded Great Blue Heron; Great and Snowy Egrets; Little Blue and Tricolored Herons; Cattle Egret; Green Heron; Yellow-crowned Night-Heron; White, Glossy, and White-faced Ibis; and Roseate Spoonbill. If the vultures hadn't played so hard to get (read: impossible to get), we'd have tallied 15 species, about as long a list as you can get inland in the US.
No bittern photos, unfortunately, but another "Buff-backed Heron" to delight the eye.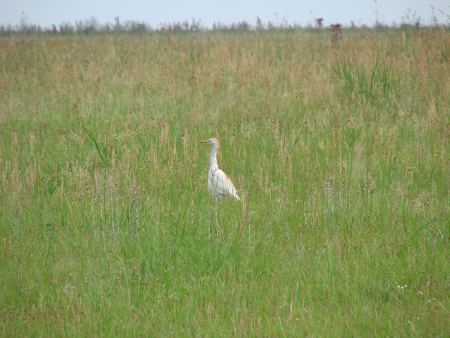 My visit to Georgia passed way too quickly, and after a few hours enjoying the Barred Owls, Brown-headed Nuthatches, and Eastern Towhees in Alison's backyard, it was off to the American Birding Association in Lafayette, Louisiana. ABA events are always great for getting together with old friends and making new ones, and I was doubly excited this time because not only would the Pelican State be a "life state" for me, but I would get to bird it with Richard Crossley, helping him out on field trips into the rice fields in search of shorebirds.
We sought and we found. Among the 23 species of shorebirds we were able to show the trip participants were American Golden-Plover, Hudsonian Godwit, Stilt Sandpiper, Upland Sandpiper, Whimbrel, White-rumped Sandpiper, Buff-breasted Sandpiper, and Wilson's Phalarope. It was a bit like my midwestern childhood, with the notable difference that I was birding with one of the truly big names in shorebirding. Richard is not just a great birder, but an excellent pedagogue as well, and everyone in the van (including me, of course) learned a tremendous amount about these birds.
Busy driving, scoping, and occasionally gabbing, I didn't take many photos on the field trips proper. Ann Hoff and I did sneak out Wednesday morning, though, and I managed a few shots of the commoner species, including Dunlin and Least and Semipalmated Sandpipers.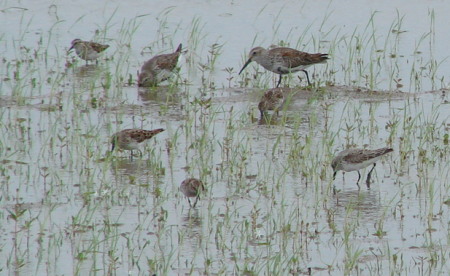 Pectoral Sandpiper, always one of my favorites, is pretty scarce in southeast Arizona, and each day we were out I saw more than a year's quota.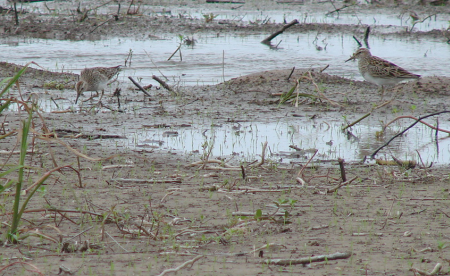 But it wasn't all about shorebirds. The rice fields were great habitat for herons and rails, including King Rail. Little Blue Herons were ubiquitous, and our last morning out produced fantastic views of close-up Yellow-crowned Night-Herons.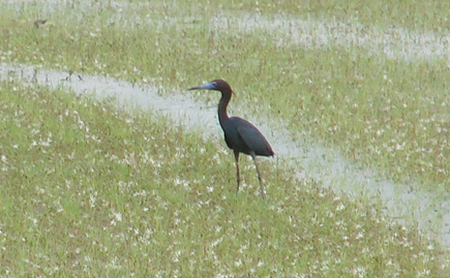 Cattle Egrets were everywhere, including in a pasture with two American bison, a time-warp if ever there was one.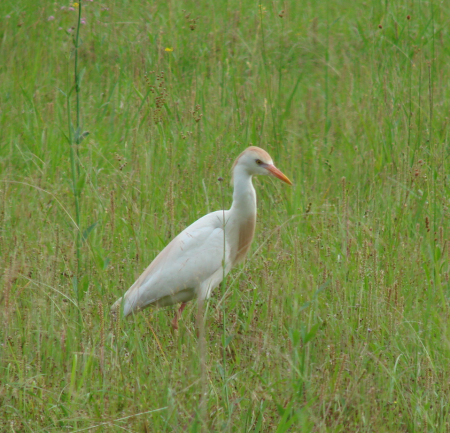 We never saw a major fallout of passerine migrants, in part because of the weather (beautiful the entire week, alas!) and in part because of our chosen habitat. Ann and I did run into a good arrival of Dickcissels and Sedge Wrens one morning.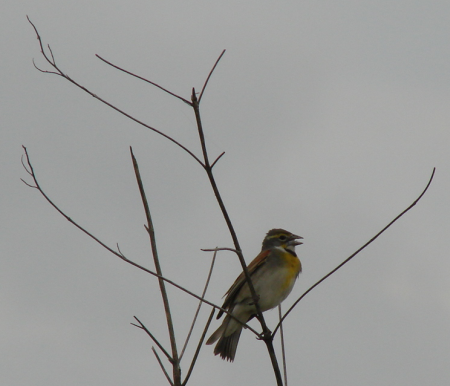 With beauties like this singing away, who needs warblers?