Archive for Georgia
The second day of the GOS/FOS meeting was as good as the first. Chuck Saleeby and Bill Lotz, outstanding birders both, led our group to Altamaha WMA, a site I've long wanted to visit and one that did not disappoint us. Orchard Orioles sang from our parking lot, and migrants and southeastern breeders such as Prothonotary Warbler, Painted Bunting, and Summer Tanager lit up the roadsides.
We were especially eager to see Mottled Duck, and had great close views of birds perched and in flight; I hate to think how many Mottleds I've passed by in big flocks of American Black Ducks…. Marsh Wrens rattled and sang, and a couple of Soras joined the American Coots and Common Moorhens in the brushy ponds.
But the best bird was one I had not expected. While we were watching Blue-winged Teal and Green Herons, a big brown shape materialized out of the marsh and flew to the edge directly across from us, an American Bittern. It let us watch it for several minutes, its head pointed skyward as it gradually melted into the background until even through the scope it took great effort and more than a little imagination to pick it out A fantastic creature–but not the last one I would see on my April journeying!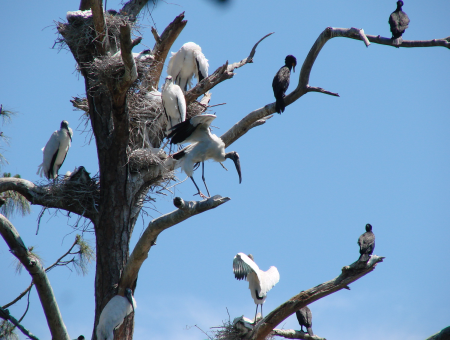 Time away is a funny thing. It goes breathtakingly fast, particularly when it combines a great visit to Alison with some excellent birding. And yet fast as these last two weeks have gone, this morning when I got off the plane it seemed like an eternity since I'd been home.
An eternity filled with fun and with good birds, though. After a relaxing few days in Atlanta with Alison, we headed to the coast, where the Florida and Georgia Ornithological Societies were holding their joint spring meeting. On Saturday evening I delivered a lecture, "RTP's RBI: How Roger Tory Peterson Founded Birding, Twice"; the talk was very well attended, and the snores from the audience were nicely drowned out by the very perceptive questions and comments that followed. It does the heart good to know how many birders actually think about their chosen sport.
The main point of the weekend, of course, was to spend time afield with the local experts, and Alison and I were as impressed by their skill as we were delighted with the birds they showed us. Jekyll Island truly is a paradise, and it was a rare treat to have the bird artist Lydia Thompson as our guide. Gray Kingbird was our special target, and Lydia led us right to them; we had fantastic close views of two birds as they hunted and squabbled from the telephone wires before flying into a tree for a little domestic bliss. Painted Buntings were another highlight, the first of the eastern subspecies Alison and I had seen.
Waterbirding was fantastic, of course. The Wood Stork colony was a great sight, with the huge birds surprisingly graceful in their treetop nests.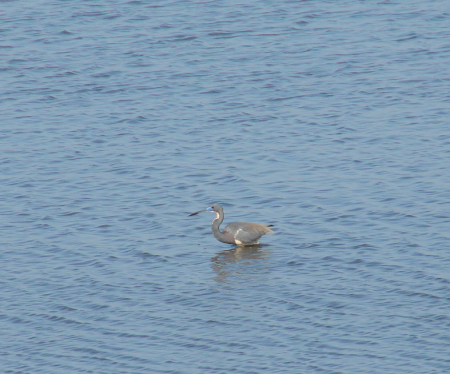 We got to see a fine variety of herons, including Tricolored and Yellow-crowned Night-Herons. Loafing on the beach at the south end of the island was a fine flock of larids and shorebirds, and we spent a wonderful couple of hours sorting through them.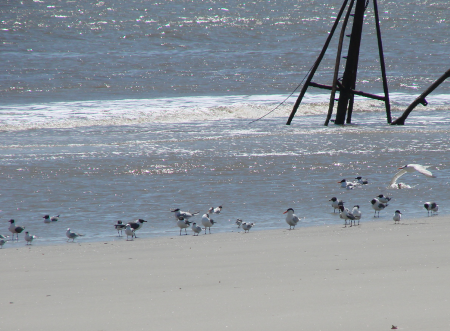 Wilson's Plover eluded us, but a single Piping Plover was among the Black-bellied Plovers, Least Sandpipers, Sanderlings, and Dunlins. The tern flock included many Forster's and Royal Terns, along with a few Black Skimmers and Least, Sandwich, Caspian, and Common Terns: a treat indeed for those of us from the southwest.
A great day that came to an end too soon!