Archive for Provence 2009
We call it Day Two, but today–after last night's spectacularly good introductory dinner–was the first full day with our great WINGS group. We had a lavish breakfast here in Arles, then headed north on good roads to Avignon, Carpentras, and Bédoin before starting our climb of Mont Ventoux.
We were just a few miles out of Arles, with lots of Black-billed Magpies and Eurasian Collared-Doves already under our belts, when I spotted the first officially "good" bird of the tour on the wire: European Roller! The bird sat long enough for us to get turned around and enjoy it in good light–and then it was joined on its wire perch by a second. We had great, long looks at the pair, which eventually flew across the road into an orchard. Another kilometer or so north, a third roller appeared, making a good showing for that species already on the first full day out.
The weather grew more and more ominous as we approached Ventoux, and by the time we were at our first forest spot, sprinkles were threatening to turn into rain.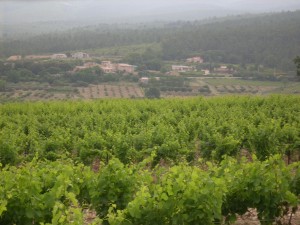 The dim skies appeared to depress bird activity, but we still managed reasonably good looks at singing Woodlarks along with a few other common species.
As the clouds lowered, we headed up to Chalet-Reynard, where it was raining in earnest and continued to do so the rest of the morning.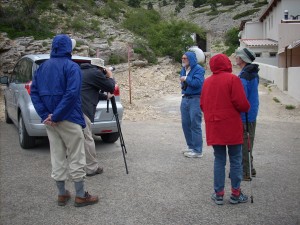 Increasingly sodden, we stood in the parking lot scoping such mountain birds as Northern Wheatear, Common Crossbill, and Dunnock, then strode off through the rain to walk up the conifer-covered slope a bit. Nest-building Winter Wrens were busy in spite of the weather, and a small gang of Crested Tits moved through, giving most of us reasonable looks. The prize though, and what made the soggy walk worth it, were four Citril Finches that showed briefly in the trees just above our heads: we missed that species on last year's tour.
The rain was getting heavier, so we repaired–along with something like 80% of France's bicycling population–to the cafe, where we had a good lunch with lots of hot chocolate. It was too much to hope that we might dry out, but at least we were warm on the inside for the return trip to Arles, where, predictably, the skies were blue, the air was bright, and the temperatures were 20 degrees warmer than their nadir on the mountain. A quick break and it was off to see the antique and early Christian art of the city's big blue museum.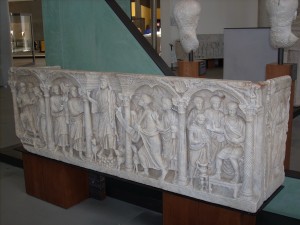 The sarcophagus collection is easily one of the most beautiful in the world, and the entire museum presents an image of richness without the overwhelming effect of so many collections.