Archive for Gamboa 2007
December is the end of the rainy season in Gamboa, but it wasn't giving up without a fight; on my last afternoon, the skies opened and we had a downpour the likes of which I hadn't seen in years. But as is apparently typical at this time of year, it lasted only a couple of hours, and so I still had time for a valedictory stroll around the incredibly bird-rich hotel grounds.
The lawns were covered with Snowy Egrets, Little Blue Herons, and Southern Lapwings in search of invertebrates driven out by the rain; Wattled Jacanas, an unidentified juvenile Butorides (Green or Striated? not an identification problem I'd prepared for!), and Lesser Kiskadees were the motley crew feeding on one of the deeper ponds. The bird I most wanted to see again, though, was lurking on the river's edge, where I'd seen it, or another member of the species, a couple of times during my visit: Rufescent Tiger-Heron, a great ruddy adult.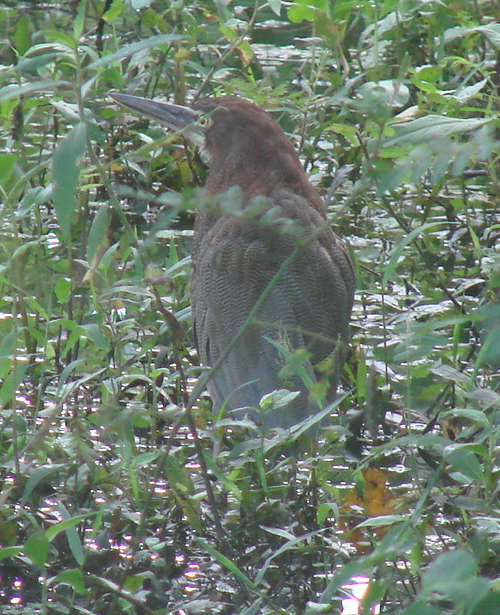 This genus, Tigrisoma, is actually named for the plumage of juveniles, which are boldly banded black and orange all over; but "tiger body" is apt, too, for the adults, whose barring is subtler but just as beautiful.
I spent a fair bit of time chasing seedeaters through the grass, but found, as in my earlier ventures forth, only chiggers and Variable Seedeaters.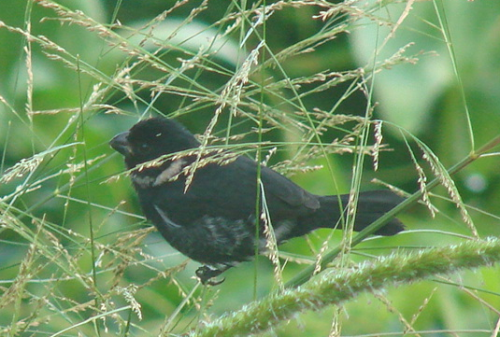 This male was among the darkest individuals I saw, most of them showing rather more white on the underparts.
I was about to call it a day and a trip when I heard the long woodcreeper-like song of a White-bellied Antbird. While I paused at the river's edge, pondering whether a good view of the species would be worth splashing through a little pond where I'd seen rather a large caiman the day before, a splendid little male flew in to perch on the branch right in front of me. He nearly burst my eardrums with that loud song, but I watched and listened until nearly sunset, glad to have made his acquaintance without risking limb and life to the crocodiles.