Eighty-six years ago today, George Washington Goethals died in New York City.
Here in our part of the world, he is best known as the eponym of the great bridge that spans the Arthur Kill to connect New Jersey and Staten Island.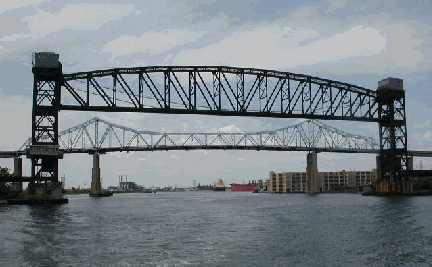 A few people with longer memories recall Goethals's heroic role as Chief Engineer for the Panama Canal, completed under his supervision a hundred years ago this year.
But very, very few of us remember Goethals's Hummingbird.
Edward A. Goldman — the famous collector whose own name is borne by so many Central American birds — took the first specimens of this new hummingbird in March 1912, in the Darien region of eastern Panama. Goldman sent the Smithsonian three skins, a female shot on March 6, a male shot ten days later, and a second male taken in May; Edward Nelson chose to describe the species using the first male, "slightly immature," as the type.
Nelson's analysis determined that the new hummingbird was closely related to the Violet-capped Hummingbird, but differed from the birds of his genus Goldmania in certain characters of the wing, most notably the apparently "normal," unmodified shape of the outermost primary. He deemed that difference sufficient for the erection of a new genus, which Nelson named Goethalsia,
in honor of Colonel George W. Goethals, head of the Panama Canal Commission, to whom the scientific workers of the Biological Canal Zone are deeply indebted for prompt and courteous assistance in prosecuting their work.
The species epithet Nelson assigned the bird, bella, is just the flattering icing on the cake.
The genus Goethalsia is still valid and still monotypic, including only Nelson's species bella.
The English name, unfortunately, has been changed to Pirre Hummingbird, commemorating the locality where Goldman collected two of his three skins. But that shouldn't stop us from thinking of Goethals once in a while, and the persistent connection between American science and our — shall we say — activities abroad.