It was a perfect prairie homecoming today. Gary, Chris, Mark, and Molly discovered a Lapland Longspur yesterday on the Sonoita grasslands near Elgin, and there was no way I couldn't look for that bird, a species with fewer than 20 records ever for southeast Arizona.
So Darlene and I bumped across the pastures on a dramatically windy afternoon, finding the described site and, a pleasant surprise indeed, Erika and Marjorie hunkered down in the lee of a stock tank. A couple of hundred Horned Larks were feeding among the cowpies, and goodly numbers of Chestnut-collared Longspurs joined them, their musical little chirrups chiming each time the flock shifted position.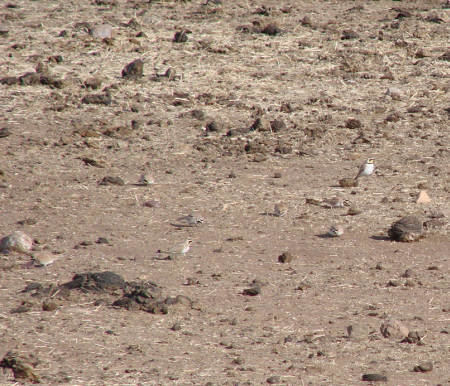 Most of the Chestnut-collareds were females or drab males, but a few were showing the black of breeding dress concealed beneath their pale feather edges.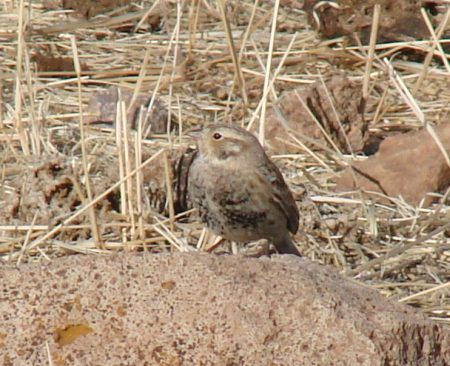 I was particularly excited to find at least 4 McCown's Longspurs in the flock, a bird I know well from its breeding grounds in northwest Nebraska but one I have rarely seen in winter; it was outstanding to see them with the Chestnut-collareds and to firm up my shaky impressions of their face pattern and bill shape.
Marjorie and Erika had been holding down the fort long enough to be cold in the biting wind, so they headed out. Darlene and I continued scoping the flock, and 45 minutes later a dazzlingly bright male Lapland Longspur appeared. He fed among the grasses and the cowpatties for a good 20 minutes, apparently unaware of how intensely he was being admired. Gary has posted beautiful photos of the bird at azfo.org, but I was reduced to a miserably poor effort at digiscoping; still, the bird is identifiable as it peeks over the cowflop in the glare of a shakily held camera.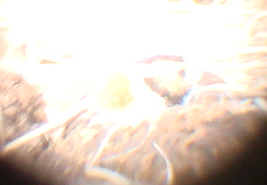 Well, maybe 'identifiable' was an exaggeration, but he's in there!
So what to do after that wonderful experience? The clouds and the light over the mountains drew us over to the San Rafael grasslands for dusk. Northern Harriers were gathering to roost, and the last Mourning Doves and Lilian's Meadowlarks were on the roadsides. It started to rain, then to snow, but like ornithological mailmen, we were undeterred. As we drove the dirt roads slowly in the gloaming, we flushed first one, then another, then a total of at least four Short-eared Owls. Our last bird of the day was a Burrowing Owl, standing on the road in front of the car, bobbing slightly on its stilt-like legs before it too lost itself in the tall grass.