This charming black-throated green warbler — an adult female, I believe — was busily picking nearly invisible bugs from Alison's aster bed this morning.
The species ultimately owes its long English name to none other than William Bartram, who listed it in the Travels as
P[arus] viridis gutture nigro, the green black throated flycatcher.
In June 1756, the very young Bartram had sent skins of this species and of the black-and-white warbler from "the province of Pensilvania" to George Edwards, who described and painted them in the Gleanings of 1760.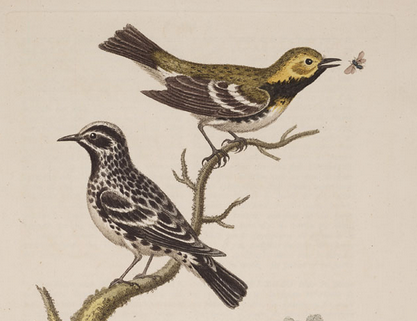 Edwards called our bird the black-throated green flycatcher, and it was his account that Gmelin drew on to assign the species its formal Linnaean name, Motacilla [later Sylvia, then Dendroica, now Setophaga] virens.
Interestingly, it seems that in the later eighteenth century there was resistance to the unwieldy English name adopted by Edwards. In France, both Buffon and Brisson called this bird simply "black-throated," while across the Channel Pennant, Turton, and Latham all preferred to emphasize the color of the upperparts by calling it the "green warbler."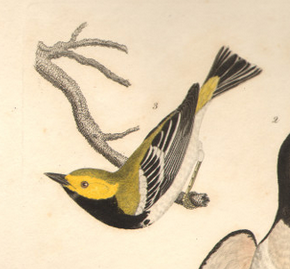 It was up to Alexander Wilson, Bartram's grateful friend, to restore his master's English name, which he did in only imperfect faithfulness to the original: the charming bird in the upper lefthand corner of Wilson's plate 17 is labeled "Green black-throated Warbler," as in Bartram, though his text reads — the first instance of the modern English name in print — "black-throated green warbler."
Audubon, who was the first to depict the female of the species, followed Edwards and Wilson's letterpress in using the sequence "black-throated green" rather than the more logical "green black-throated":

And so it has remained ever since, a long name for a tiny bird.