We tend to date the beginning of the First World War from the assassination of Franz Ferdinand and his pregnant consort. But for those who enjoy the game of "what if," it was another archducal death, equally violent, that created the circumstances leading to the greatest slaughter in European history — until the next, of course.
The argument goes like this: If Archduke Rudolph, born on August 21, 1858, as the only son of Emperor Franz Joseph, hadn't murdered young Mary Vetsera and then killed himself on that winter's day in 1889 at Mayerling, Rudolph — famously and openly sympathetic to the cause of decentralization — might have tempered his father's absolutism, and the promise of his eventual succession to the throne could have mollified the nationalists in the empire. Instead, the crown prince's death only strengthened the hand of the conservative forces at the Hapsburg court, and the frustration of the empire's national minorities festered, only to burst in Sarajevo.
Enough — far more than enough — has been jabbered over the past 125 years about Rudolph's death, but little is said nowadays about his scant three decades on earth. And today almost no one remembers that he was a birder.
Rudolph's mentors in matters natural historical included Alfred Brehm and Ferdinand von Hochstetter, two of the most famous and influential scientists of their day — sometimes it paid to be a Hapsburg.
Ornithology, both observing and collecting, was for Rudolph a refuge from "the petty, irritating matters of daily life":
A man needs diversion to keep his spirit and his body fresh, he must have the chance from time to time to flee everything he has created and the company of cultivated people; to hasten out into wild nature, into the only true magnificence, a magnificence that he himself is not capable of creating but that out of which he himself once emerged…. Only there can a real man feel truly comfortable and exist in the awareness that elements surround him that are mightier than he himself.
In April 1878, Rudolph and Brehm, accompanied by Eugen von Homeyer, the "father of Pomeranian ornithology," Rudolph's brother-in-law Leopold, and their collectors and crew set off down the Danube with a single question in mind:
  whether the Steinadler and the Goldadler represented distinct species of eagle or should be lumped as a single species.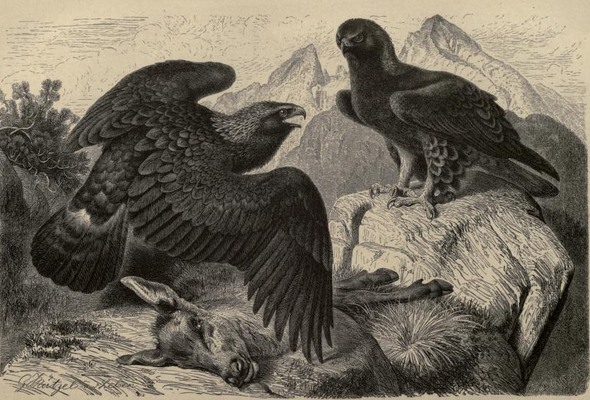 There was a great deal of what we can only call recreational collecting on that trip ("we were surprised ourselves by the number of birds we shot"). The party took a total of eight griffon vultures, one black vulture, seven imperial eagles, three lesser spotted eagles, two greater spotted eagles, fourteen white-tailed eagles, two ospreys, one short-toed eagle, three common buzzards, one red kite, nine black kites, five goshawks, one hobby, four common kestrels, one marsh harrier, two eagle-owls, one tawny owl, six ravens, seven hooded crows, one rook, one jackdaw, one magpie, one jay, five European rollers, two lesser gray shrikes, one nightjar, three cuckoos, two hoopoes, four turtle-doves, two rufous-tailed rock-thrushes, one ferruginous duck, one mallard, one graylag goose, eight great cormorants, five black terns, eleven black storks, one white stork, nine gray herons, two purple herons, four black-crowned night-herons, and "a series of twenty-six additional species of birds of less interest."
And, of course, lots and lots of indeterminate Aquila eagles. Brehm was able to use the shocking number of specimens taken to answer the question of their identity or non-identity to his satisfaction. In the second edition of his Thierleben, published the following year, he wrote that
Naumann and Pallas, along with my father, separated the Steinadler from the Goldadler, while more recent scholars tend to understand them as age-related plumages or simple variants of a single species. Recently, inspired by the eagerness for research of Crown Prince Rudolf of Austria and accompanied by Eugen von Homeyer, I examined and compared some eighty of these questionable eagles, and I must agree with the scientists named above…. I believe it is correct to maintain both eagles as separate species until unequivocal proof of their belonging to a single species has been produced. These birds are certainly very closely related to each other, and the distinctions between the two are very subtle given that the immature plumages of both are so similar as to be easily mistaken, and even the adult plumages are not so clearly different as Naumann's account might lead one to believe.
Brehm notwithstanding, we now know that those "more recent scholars" were right, and that all of the doubtful birds shot on the Danube belonged to a single species, the golden eagle – the same eagle that in double-headed form ornaments the sarcophagus of Crown Prince Rudolph in Vienna's Capuchin Church.