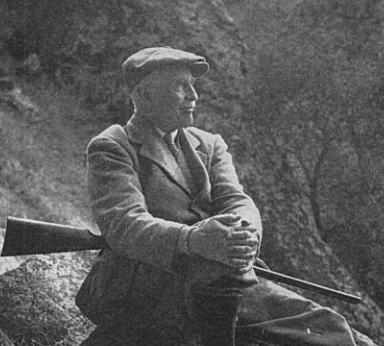 Today marks the 146th birthday of Allan Brooks, the Anglo-Canadian painter and ornithologist. One of the most widely traveled collectors of his (or any other) day, Brooks shot and sketched birds from Ottawa to Auckland and most places in between.
In March 1928, Brooks and J. Eugene Law were in Arizona. On the 14th, they discovered an odd icterid at a tank in southern Pinal County; Law was able to kill the bird the next day.
In the hand the bird proved to be about the size of a male Yellow-headed Blackbird…. iris dark brown… entire plumage black, slightly glossed with bluish purple, wings and tail more greenish… tail with thirteen rectrices, strongly graduated… quite flat without trace of plication….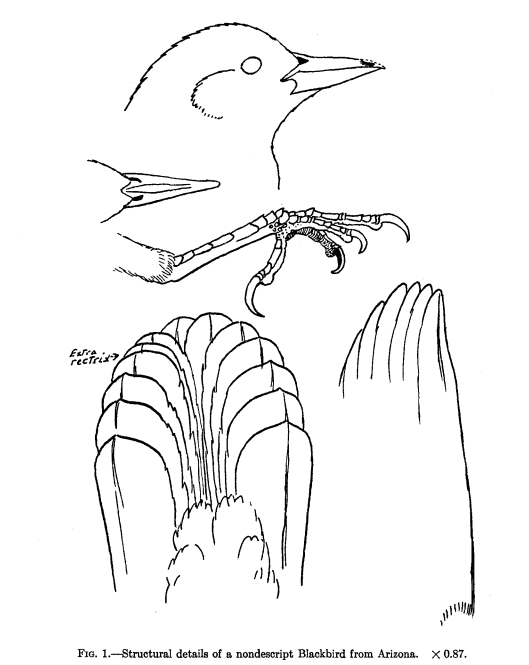 Before Law collected the bird, it had
walked about sedately, frequently posing with its head thrown back, the bill pointing straight up and the neck slightly extended.
Brooks sent the specimen east to the Smithsonian, where the skin and trunk skeleton are now USNM 313651 and 322691. After examining the bird, Charles W. Richmond was of the opinion that it was most likely "a very new species" of grackle; Alexander Wetmore agreed. "Neither," Brooks adds, "considered it to be a hybrid."
Today, no one really believes that Brooks and Law discovered a new blackbird on that spring day in Mammoth. Jaramillo and Burke — Canadians around every corner here! — report that an analysis of the specimen's mitochondrial DNA identified its female parent as a grackle of one species or another; more DNA was removed from the bird's foot in 2004, but I don't know what the results, if any, were of that study.
The BNA account for the great-tailed grackle identifies the Arizona bird as a hybrid between that species and the red-winged blackbird, an unexpected pairing given the care female great-tails take to avoid mating with even the much more closely related, much more similar boat-tailed grackles.
Whatever it was, whatever it is, the Pinal County nondescript remains testimony to the good eye of Major Allan Brooks. And to the good aim of Gene Law, of course.