Our friend Marc Chelemer was kind enough to report on a recent visit to one of our favorite cities in the world, Venice. Everyone knows Venice for its exotic architecture and spectacular art treasures — but not everyone knows that the Lagoon is also one of the most important wintering areas for wild birds in all of Europe. VENT is heading back to Venice and the Po Delta in October for another in our series of Birds and Art tours. Meanwhile, here's what Marc found on a quick visit this winter:
Whenever I've traveled, I've tried to find a way to go birding, even if birding isn't the principal purpose of the trip. My recent visit to Venice was no exception.
Venice was first settled three thousand years ago by fishermen and salt collectors. In the Middle Ages, the Venetians created large circles of wooden piles around hummocks in the huge lagoon, then backfilled the spaces to create flat, stable, habitable islands. Over time, those islands grew in size until they were separated only by narrow, easily navigable canals. Venice now is a city of 117 islands, dozens of canals, and more than 430 bridges.
Passerines and doves in Venice's parks and gardens in December were those typical of southern European cities: European Robin, Eurasian Blackbird, Great and Blue Tits, the occasional Chiffchaff, Wood Pigeon, and Eurasian Collared-Dove.
I found a Firecrest in one city park. Surrounded by water, Venice is also home to thousands and thousands of Yellow-legged Gulls and Black-headed Gulls, hundreds of Great Cormorants, and the occasional Little Egret along the canals. One day, I spied a flock of Jackdaws.
Out on the lagoon, there were frequently Great Crested Grebes and Eared Grebes as well.
To get out of the urban areas, I used the internet to find the Rome-based Italian Ornithological Society. The secretary outfitted me with a list of Italian species and their seasonal abundance in the Venice area, and a map of birding hotspots. He also put me in touch with Alessandro Sartori, a professional ornithologist whose specialty is the birds of the lagoon, specifically the gulls that winter there.
Ale, as he signs his e-mails, met me early on January 4. The best birding, he said, is by boat, but the weather and the short notice prevented us from using his keeled craft, so a car would have to do. Our destination was a place called Rio Piccolo.
On the drive there, Ale said that the lagoon was one of the very best places in all of Italy to bird, both in the winter because of the shallow open water, and in the breeding season because of its extensive marshlands. Some of the good spots, he sadly noted, were privately owned ("the richest people in all of Italy"), and were mostly given over by those owners, for a handsome fee, to fishermen or hunters. Rio Piccolo, a ghost town at the edge of the marsh, was one of the exceptions.

Once we got to the spot, we started seeing wonderful birds: Common Shelduck, Eurasian Teal, Redshank, Greenshank, Common Sandpiper, and Gray Plover (our Black-bellied) were present, as were many Great and Little Egrets and Gray Herons. There were dozens of the westward-expanding Pygmy Cormorant and numerous Little Grebes. We also saw Reed Buntings and Meadow Pipits.
Overhead, two flocks of silvery Graylag Geese winged by, looking ghostly in the muted morning light. Along a narrow canal, two tiny European Kingfishers provided visual delight. The European entrant to the family Alcedinidae looks to me to be a cross between a kingfisher and a hummingbird, so fast are the wingbeats, so bright the iridescence.
At the farthest point of our adventure, we strolled along a narrow path amidst a noisy flock of Goldcrests and a Eurasian Wren, on the way to the best species of the day: sixteen Greater Flamingos, some in full adult pink plumage, others—immatures—white with black primaries, all casually feeding in a shallow enclosed pond.
Ale said that these birds would be spending the entire winter in this location. For me, it was only the fourth time ever in 45 years of birding I had seen any flamingo, and only the second time ever for this European species.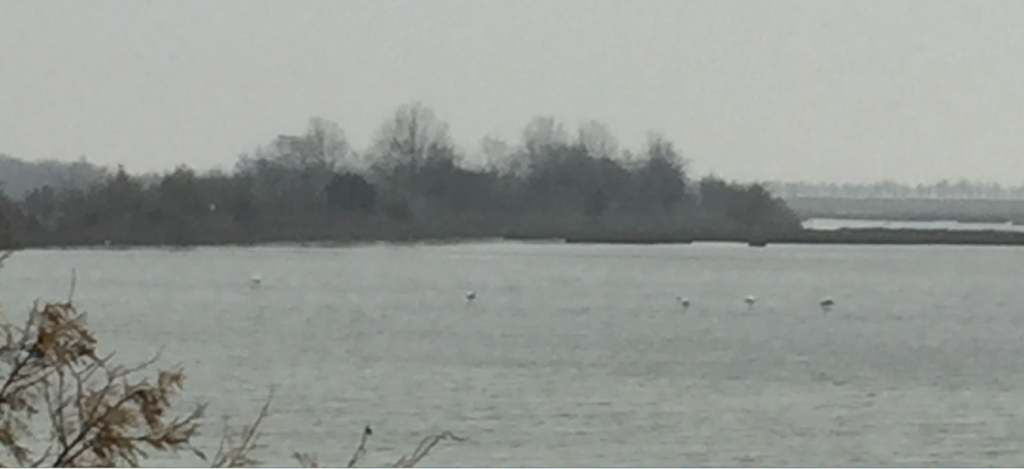 Too bad I had not brought my camera; my terrible iPhone photos provided the only documentation.
On the way back, the weather improved a bit, so we stopped at a private reserve owned by one of the wealthy land barons Ale had talked about. This gentleman had been convinced by Ale to make his property into a bird sanctuary; he had created ponds, marshes, and other attractive bird habitat. A short drive through the habitats yielded Common Snipe, more Teal, Jays, a Marsh Harrier in the distance, a Sparrowhawk, Eurasian Kestrel, Chaffinches, Green and Great Spotted Woodpeckers, and more.
One final stop at another of the "Count's" properties yielded Eurasian Moorhen (they were very common) and another fine species: a Cetti's Warbler clinging to a reed, out in the open. This bird is the European equivalent in behavior of a Geothlypis warbler: skulking, loud, hardly ever seen. Ale was quite happy.  It was only my second Cetti's ever.
When I tallied the list later, we had seen fifty species during the morning. I had eight other species on other days. My lifers on the trip were the Italian Sparrow (the equivalent of the House Sparrow in some areas, now a separate species) and the Pygmy Cormorant. It was wonderful to mix European winter birding with the magic of Venice. I can't wait to go back in the breeding season, to venture out again, with sandpipers, ducks, and reed warblers aplenty just waiting to be found.
– Marc Chelemer has been birding since he was 10, having been invited into the hobby by his father, who showed him a picture of a Scarlet Tanager in a 1940s edition of Peterson's field guide. That was all it took. Over the next 45 years, Marc has birded throughout the United States, occasionally in Europe, once in Australia, and extensively in Costa Rica.  His favorite North American bird is the Blackburnian Warbler, based on a cherished early birding experience.  After an upcoming trip to Ecuador in March, Marc hopes to cross the threshold of having seen or heard more than 20% of all the world's species. He wishes "Good birding" to one and all.