This tall, dark, and handsome Snowy Owl, loafing in the dunes of Sandy Hook this morning, is one of about four reported in the state over the past couple of days, a total that is already better than average for a New Jersey winter. Maybe we'll get the snowy winter we're due after several years when the species' incursions have stopped just north or just west of us.
Snowy Owls are famous for their tolerance of humans — and infamous for their brashness on the breeding grounds. In 1863, a hundred fifty years ago this year, this is what Thomas Wright Blakiston had to say about the species in its Canadian nesting range:
its audacity is such, that it was related to me by a chief factor of the Hudson's Bay Company's service, that he knew of an instance of one carrying off a wounded bird from the haversack of a hunter; its wing, having been sticking out and fluttering, attracted the Owl's attention.
The Snowy Owl is the heaviest, most powerful, and — if you're a hunter with a wing flapping out of your haversack — scariest owl in North America. It's not the largest in the world though: that distinction belongs to another member of the genus Bubo.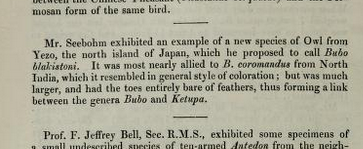 Named, coincidentally, for Blakiston. What goes around, comes around.