Archive for WINGS Tours
In late August of 2013, I'll be leading a short WINGS tour to some of the sites Alexander Wilson — the father of American ornithology — birded in Pennsylvania and New Jersey; on the 200th anniversary of his death, we'll finish up, just as he did, in the cemetery of the Old Swedish Church in Philadelphia.
Meanwhile, concerned that he isn't getting quite the attention he deserves, I've set up a new facebook page for Wilson, and I'm hoping that we can all keep it busy as we celebrate the last "Wilson year" any of us is likely to experience (well, until 2016). We've already got a good number of birders, historians, and birding historians signed up and playing along.
And posing good questions.
One of the first was about the Wilson's Bird-of-paradise, the astonishing beast in the photo above (what feet!). The question: which Wilson?
Bo Beolens's helpful and handy Whose Bird says that it was our Wilson, but much as I like the book (and use it almost every day), we've all learned long ago to be cautious (haven't we?) in repeating assertions not backed up by usable citations to primary sources.
This is precisely the sort of easy, straightforward, merely factual question that I use google for. So how about
The Wikipedia article comes up first, of course, and as is almost always the case with the bird entries, it's just fine, if, as is almost always the case with the bird entries, not overly well written.
Here's what it says (and what is repeated over and over on the web):
The controversial scientific name of this species was given by Charles Lucien Bonaparte, Napoleon's nephew and a republican idealist, who described the bird from a badly damaged trade specimen purchased by British ornithologist Edward Wilson. In doing so, he beat John Cassin, who wanted to name the bird in honor of Wilson, by several months.
Now this sounds a lot more interesting. But please, sirs, what's your source?
Thank goodness for the Biodiversity Heritage Library. I've said it before, but this is the very best resource for anyone interested in going ad fontes for the discovery and description of birds. We don't have to deal with the accounts given in secondary sources any more: without leaving my hot chocolate behind, without roaming the stacks or riding a time machine, I can see just what was going on nearly 163 years ago.
First stop: Peters's Check-list of Birds of the World. Volume XVI is the index, and we just look up respublica to find the right volume and page (genera change over the years, but species epithets shouldn't, at least not as often).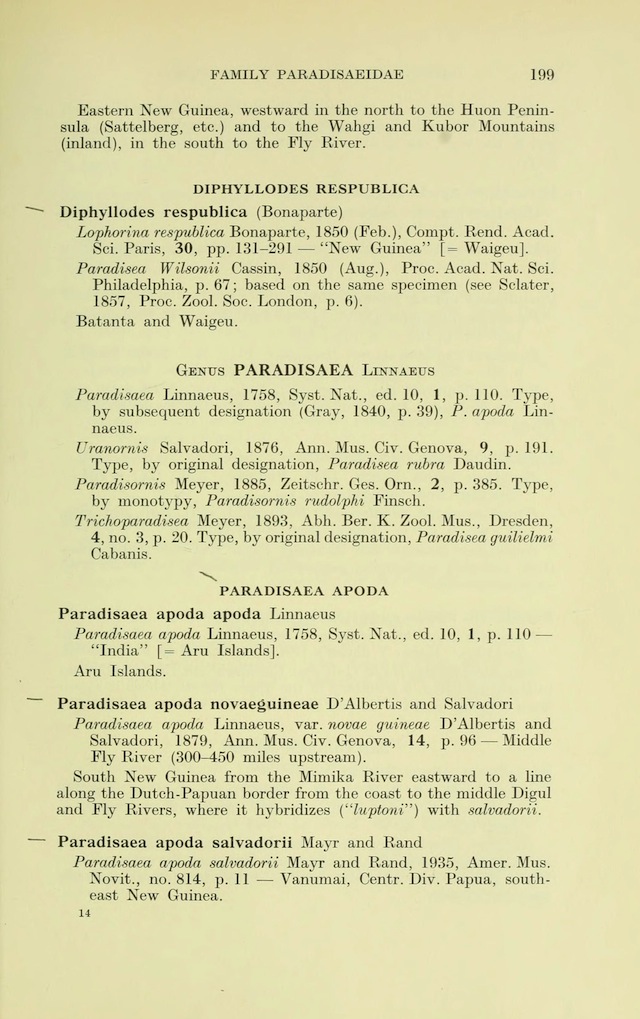 And there are the citations to the original descriptions by Bonaparte and Cassin — and in fact, they are just six months apart.
There's not much to Bonaparte's proclamation of his sp. nov. Indeed, the description is in a footnote (this happens more often than you might think) to an article about parrot taxonomy. But even though it doesn't fit thematically, Bonaparte wrote (in a mixture of French and Latin),
we believe that we should not put off publishing one of the most magnificent species that has been discovered in a great while…. This new species, Lophorina respublica, is characterized by the red cloak formed of the elongated feathers of the nape. This is contrasted with the distinguishing mark of Lophorina superba, the yellow cloak formed of the elongated feathers of the nape.
Two weeks later, in the next issue of the Comptes rendus, Bonaparte published, again in a footnote, a correction to his description:
thanks to a slip of the pen, the remarkable new species of bird 0f paradise that I described in a note to my previous essay was incorrectly compared to the Superb Bird of paradise; in fact it is allied to the Magnificent Bird of paradise, and so it is Diphyllodes (not Lophorina) respublica.
And what about Cassin? On August 27 of that year, working from the same (at that time still unique) "slightly mutilated" specimen, John Cassin (who was, incidentally, born two weeks after Alexander Wilson's death) published his long and detailed description of the bird he named Paradisea Wilsonii, a "very handsome paradise bird" that he considered
one of the most valuable and interesting of the many contributions to the collection of this Academy, made by Mr. Edward Wilson, of Lydstip house, Pembrokeshire, to whom I have taken the liberty of dedicating it, as a slight acknowledgment of his valuable services to the cause of the zoological sciences in this country…. The specimen was obtained by Mr. Wilson in England, but bears no label indicating locality.
So there's the answer to our question: Cassin's Wilson was not our Wilson, but rather — just as Wikipedia says — another nineteenth-century British ornithologist with ties to Philadelphia. Significant ties, at that, as the Wilson papers at the University of Delaware attest:
Thomas B. Wilson and his brother Edward Wilson gave more than 15,000 books to the library of the Academy of Natural Sciences in Philadelphia, and more than 28,000 specimens to the museum, in addition to donating the money to build one of its wings. They were essential early benefactors of the institution, helping to establish it as a world-class institution. The brothers collected books and natural specimens of birds, shells, and minerals….
As usual, though, it's the stuff at the edges that captures our attention. Where does the Wikipedia compiler have this notion that Bonaparte's name was "controversial," and why the pointed reference to his "republican idealism"?
Coincidentally, this morning's mail brought a copy of David Attenborough and Errol Fuller's new Drawn From Paradise: The Natural History, Art and Discovery of the Birds of Paradise, with Rare Archival Art. It's a lovely "coffee table" book with an extensive and so far very informative text; the book's large format does justice to the paintings within and has the added benefit of helping that subtitle to fit on the cover. And what do we find inside, without citations?
A specimen [of the Wilson's Bird-of-paradise] reached Europe in 1849 and was acquired by an English ornithologist, Edward Wilson (1808-88)…. John Cassin … named the bird after Wilson in recognition of his gift. Today it is still usually known as Wilson's Bird of Paradise. But not scientifically…. Bonaparte … rushed his own description into print, just beating Cassin's … and thus claiming priority. Despite his grand title of Prince of Canino and Musignano, something of the old revolutionary zeal still burned in Bonaparte's veins. Stating that he cared nothing for any ruler in the world, and directing a sneer at all those who named these exotic species in [honor] of the royal houses of Europe, he called the new discovery respublica — the Republican Bird of Paradise. It had taken two and a half centuries, but no longer were birds of the genus Cicinnurus the exclusive preserve of Habsburg emperors and their descendants. They had been given to The People.
Whew. So now, somehow, we know the date when the skin arrived in Europe? Somehow we know that Bonaparte was in a rush to scoop Cassin's description? Somehow we know not only what he "stated" but the very direction of his "sneer"?
This story just gets better and better. So much better, in fact, that it's time to go back to the sources again.
One of the great features of BHL, and one that I think not many people know about, is its bibliography by page for scientific names. Just go to
biodiversitylibrary.org/name/
and add a binomial after the slash, connecting genus and species with a single underscore, as in
biodiversitylibrary.org/name/Lophorina_respublica
You'll get a page with "live" links to online works in the BHL that cite the name in question, the sort of thing you could never come up with on your own even with an army of competent research assistants.
In our case, we discover right away that the species epithet respublica really was controverted in the 1850s. Sclater, in a priceless report on his visits to United States museums, points out in 1857 that
even after the correction of the error in the generic appellation … the descriptive phrase given by the Prince is quite erroneous, and such as the bird cannot by any possibility be recognized by, [and so] I must say I think it very questionable whether we ought not to employ Cassin's name Wilsoni for this species, although certainly subsequent in time to Prince Bonaparte's term respublica,
which is precisely what Sclater did. Bonaparte had published a footnote [!] with a slightly fuller, slightly better description of the specimen in 1854, but even twenty years later Sclater was still insisting that the name respublica be not just rejected but expunged:
I was informed upon the best authority that the late Prince Bonaparte, having been allowed to examine the (the unique) type specimen in question, before its transmission to Philadelphia, thought the opportunity of describing a new Paradise-bird, and at the same time of promulgating his republican sympathies, too good to be lost, and in spite of the injunctions of the owner of the specimen, inserted the name "respublica," with a short diagnosis (certainly erroneous, and probably drawn up from recollection), in a footnote…. Bonaparte's Lophorina (sive Diphyllodes) respublica should be rejected for insufficient definition…. [as] a subject of conjecture, or even of disputed evidence….
The British ornithological establishment agreed (the Philadelphians, too, naturally), and Rothschild was still using wilsonii (assigned to a new genus Schlegelia, named for Bonaparte's posthumous editor) as late as 1898 in his Paradiseidae.
As to Bonaparte's famous "republican sympathies," his 1850 description contains nothing of the kind, apart from the epithet itself, of course. But four years later, when he listed the species in his great Conspectus generum avium, he not only back-dated his original description to 1849 (take that, John Cassin), but added the following Latin note, one deemed "humorous" by later French colleagues:
There may be those who strive with extreme enthusiasm to give the most beautiful species the names of princes; but for my part, I, who care nothing at all for the authority of all the princes, have adorned this most beautiful of the birds of paradise with the name of The Republic: that Republic which would be paradise were it not made hell by the wicked ways and ambition of those unworthy men who have taken on the name of "republicans." But though there might not exist a paradise of a republic [Respublica paradisea], let there at least be a Republican Bird of paradise [Paradisea respublica]!
With this, I think, we've managed to account for almost every element of the story: we have Sclater to thank for the idea that Bonaparte was eager to scoop Cassin, an eagerness that I think is confirmed by the back-dating of Bonaparte's description to 1849. And it is Bonaparte who, four years later, made explicit the connection between his republican fervor and the bird named "republic."
What the modern story — whether in its internet form, or in the version in Drawn From Paradise —  hasn't done is fill in the relationship between Bonaparte and Edward Wilson. I suspect that that is because there is little available about Wilson, but couldn't we take the few hints and run with them?
I take it as almost certain that Sclater's "best authority" was Cassin, or maybe even Wilson himself. I can easily imagine that Bonaparte elbowed his way into Wilson's cabinet and recognized the bird-of-paradise as new; Wilson, however, had already resolved to donate the specimen to the Philadelphia Academy, and must have supposed that Cassin would eventually describe the species himself.
Bonaparte knew that, too, and managed to take just a few surreptitious notes (or, as Sclater suspects, none at all) while he examined the skin that would soon enough be in Cassin's hands at the Academy.
Anyone in Delaware next week might want to have a look at Folder 18 in the Wilson papers:
Inventories, Catalogues, and Invoices, 1846 – 1850: Mainly natural history specimens including birds, eggs, and minerals….
Maybe, just maybe, there is more information there about the skin and, hope beyond hope, a meeting in late 1849 between Edward Wilson and the man who named his bird of paradise. Let us know what you find out.