Archive for WINGS Tour: East Meets West in Nebraska
"Can I? Can I? Can I? Please?"
Alison is nothing if not indulgent, and I took advantage of that once again when I found out that this fall's Nebraska Ornithologists' Union meeting would be in Bridgeport, smack dab in the middle of the Panhandle, with easy access to all of the western sites we'll be visiting next May on my new East Meets West tour.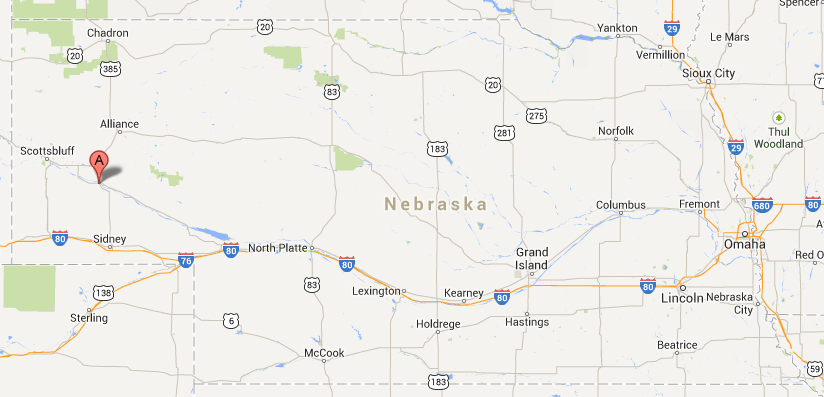 What was already a great combination — seeing old friends and doing some scouting* in one of my favorite regions anywhere — got even better when I was asked to deliver the lecture at the meeting, and the cup ran over when I found out that Ted and Andrew would be able to come up from Boulder to join me in an afternoon's birding at the spectacular Wyoming Hereford Ranch.
So Alison and Gellert took me to Newark in the dark of a mid-September morning, and I was in Denver, plane-dazed but excited, a short half-day later. As I left the yellow haze of Denver behind, I started to see roadside birds: American White Pelicans and Double-crested Cormorants loafing on the South Platte, Red-tailed and a total of 17 Swainson's Hawks on the roadsides, a Bald Eagle soaring over the flooded St. Vrain River seeking whom it might devour.
I met up with Ted and Andrew at WHR, where the "best" bird by local standards, a Blackburnian Warbler, was eclipsed to my eager eastern eyes by such common westerners as Say's Phoebes, Wilson's Warblers, Brewer's Blackbirds, and Lincoln's Sparrows. Ted and I had different impressions of the sounds emitted by an invisible chickadee; that was in large part due to Ted's much superior ear, of course, but when the bird did briefly emerge, we saw that it had the face pattern of a Mountain Chickadee with the buffy-yellow flanks of a Black-capped Chickadee — and indeed, Ted tells me that a mixed pair had produced young this summer in a cottonwood knot on the ranch.
And so on to Bridgeport and the Meadowlark Inn. One of the great delights of a small-town motel in late summer is the porch lights, and I was welcomed to my room that first night and every night after by this very handsome June beetle:
I had three days to scout* before the meetings started, so planned a day to the north, one to the west, and one close to Bridgeport. I started that first day very early, driving north from Bridgeport to intersect the Pine Ridge south of Chadron. At first I thought I'd started too early.
But within minutes I was seeing the birds of dawn: Mountain Bluebirds on the wires, an early-rising Rock Wren in the headlights, and a trio of Sharp-tailed Grouse perched on a fence.

Encouraged, I pressed on into the canyon of East Ash Creek, where I'd enjoyed some good migration mornings in the past.
It was a really good migration morning.
I'd been hoping for sparrows, and they were everywhere. Down along the creek, every bush held Lincoln's and Chipping Sparrows, and once I sat down and started sorting, I quickly found plenty of Clay-colored Sparrows and a couple of Brewer's Sparrows; the big ones were represented by Gambel's White-crowned Sparrows and whining, snarling Spotted Towhees. The treetops were full of American Goldfinches and Red Crossbills, and the first of what would be the usual many Townsend's Solitaires swooped elegantly past.
I looked longingly at the trail leading across the ridge to West Ash, but I was on a schedule. Still, would a few minutes hurt … ? No, a few minutes wouldn't hurt. Especially not when I almost immediately ran into a long, lanky Empidonax flycatcher gently, rhythmically swinging its tail down, phoebe-like: my first Gray Flycatcher for the state. I watched it 'til it had its fill of me, then went back to the car and on west along the Pine Ridge.
The roadsides were very birdy just about everywhere I went, and it wasn't long before I almost — almost — stopped looking at the abundant Vesper Sparrows.
Finally I wound my way up to Fort Robinson, just a small, small bit behind schedule, and scanned the buttes for raptors.
It was still too early and too cool for anything but Turkey Vultures, so I pressed on to one of western Nebraska's great open birding secrets, the White River Campgrounds. That stretch of gallery forest has birds at any time of year, but it's especially appealing in the fall, when migrants crowd in and humans are absent. As expected, I had the place all to myself, or rather, I shared it only with the birds, a nice little flock of Warbling Vireos, Wilson's Warblers, Black-capped Chickadees, and the other common species. As it warmed up, the aerial predators began to appear: a couple of Western Kingbirds, a small gang of Cedar Waxwings, and Say's and Eastern Phoebes, hunting quietly from the cemetery fence.
Almost eight hours into my day, I'd grown used to the solitude, and felt more than a little cheated when I arrived at Gilbert-Baker to find it cluttered up with campers, hunters, and their gear; I turned around in a huff and headed to Sowbelly Canyon, where I knew I could bird undisturbed. (Not to suggest that anyone was really disturbing me at G-B; it was just that they were there where I wanted to be.)
Much of Sowbelly burned several years ago, but there are still lovely ponderosa pine forests at the top, lush creekside vegetation at the bottom, and starkly beautiful buttes where the canyon opens up onto the flats of northern Sioux County. At my first stop, it felt like being welcomed by old friends: Mountain and Eastern Bluebirds, Pygmy Nuthatches, a Cassin's Kingbird, and Audubon's Warblers fed and flitted on the roadside, and a Western Tanager paused to look over his bright shoulder at me.
A flock of small birds at the first culvert turned out to comprise mostly the expected Chipping and Clay-colored Sparrows and Orange-crowned and Wilson's Warblers — but it also included a decidedly unexpected Western Palm Warbler, first flushing from the roadside to show its yellow rump and small white tail corners, then settling back to feed, pipit-like, on the sand.
Inexplicably uncommon even in the eastern part of the state, this species is downright scarce in the Nebraska Panhandle, and I'd certainly never seen one on the Pine Ridge. I made a few notes, took a few photos, then went back to watching the only least chipmunk I would see all week.
Coffee Park, at the bottom of the canyon, was fairly quiet, with none of the "eastern" specialties of the summer in evidence, but a quick scan of the buttes turned up two Golden Eagles soaring high against the blue sky. I would see that species every day at least once during my visit to Nebraska, the most exciting encounter a single bird being harassed by a Ferruginous Hawk high over Scotts Bluff County's Cedar Canyon.
Sowbelly is one of those places that offer the birder simply too many choices. Should I turn around at the bottom and go back up the way I came in, hoping to pick out another species or two from the flocks I'd seen seen earlier? Or venture out onto the remote flats in my suddenly so tiny, suddenly so low-clearance rental car? Or drive back up past Pants Butte to rejoin the highway there? I let the clock decide for me: time to get back to pavement.
Pants Butte is often a very good place to just stop and look around, and with nobody else on the road, I did just that. Not a bird to be seen or heard, but what's that up on the cliff edge?
Audubon's sheep, the race of the bighorn found on the great plains at the time of white settlement, has been extinct for a long time (but read this), but the introduction forty years ago or so of other subspecies "took," and there are now small numbers of bighorn sheep scattered across extreme western and northwestern Nebraska. Their favored haunts tend to be remote and inaccessible, though, and on most days, a glimpse of movement on the cliffs high above counts as a good sighting. I was lucky this time.
The animals simply sat for several minutes, letting me watch them from the road just below.
And when they finally got tired of being gawked at, they just grazed their way gently around the corner and out of sight.
There were still two places I wanted to check. The road south along the Wyoming border to Henry is scenically breathtaking, grass as far as the eye can see, broken only by low buttes and outcrops.

It also has birds — at least in the spring and summer. As I made my way west from Harrison, it occurred to me that I'd never been out there this long after the conclusion of the breeding season, and I was concerned that I might be taking a long detour for nothing.
Shouldn't have worried.
Diversity was lower than it is in May and June, naturally, but I started seeing birds the instant I crossed the Niobrara. The rushes and sedges along the river were alive with Red-winged and Yellow-headed Blackbirds, while the Horned Lark hordes set in as soon as I'd left the water behind.
This is far and away the commonest bird out that way — and probably the commonest bird in Nebraska on most days of the year. In May and June, they're joined on the Henry Road by two breeding longspur species, and I was delighted to discover goodly numbers of McCown's Longspurs still hanging out with the lark flocks.
They'll look much prettier next May, of course, when the fields will be alive with sky-dancing males.
The afternoon was wearing on by now, so I cut east to Agate Fossil Beds, another of my favorite places.
A few warblers and sparrows were feeding along the Niobrara where it crosses the trail up to the hills, but it was otherwise quiet. Just as I was wondering whether I wanted to make the walk, my stomach started to growl and the wind started to howl, and I decided to call it a day — the first day.  My beetle friends welcomed me back to Bridgeport, and I slept the sleep of the happy tired.
The next morning started with some surprise shorebirding. I knew there were springs and ponds near Bridgeport, but I didn't expect them to be quite as rich as they were. Flocks of Lesser Yellowlegs were joined by Greater Yellowlegs, Killdeer, Least Sandpipers, Pectoral Sandpipers, Long-billed Dowitchers, and loads of Wilson's Snipe; scoping and some luck turned up a lone juvenile Stilt Sandpiper, and one little puddle sheltered two nervous Solitary Sandpipers, not such a common bird in the western part of the state.
Unsurprisingly, I was not the only watcher out on the roads. A couple of Red-tailed Hawks were joined by a fine Ferruginous Hawk and at least three Bald Eagles, all no doubt hoping for a sandpiper breakfast.
None of the raptors made any really serious attempts while I was there, but the shorebirds were nervous anyway, and I soon left them to continue south to the Wildcat Hills.
As usual in mid-September, one of the commonest and most conspicuous birds on the edges of the Hills was the Cassin's Kingbird. Though that species seems to have greatly increased on the western Great Plains over the years, it's still a fairly uncommon breeding in Nebraska — but for some reason, numbers appear each year in early autumn. I don't know whether anyone has determined whether these are post-breeding wanderers from the south or fall migrants from the north (they do breed in Dakota), but it's a phenomenon worth seeing if you're out that way. Sadly, they don't seem to call much in the fall.
Even better, the sparrow show continued unabated, and I ran across one spot, six or seven miles south of Redington, where I could easily have spent the whole day. Mindful of the time, I almost rolled right past it, but the loud chipping of a Blue Grosbeak over the noise of the car persuaded me to stop. The big brown tail-twitcher was probably the best bird there, but the sunflowers and cedar trees were crawling with Vesper, Clay-colored, and White-crowned Sparrows; Orange-crowned Warblers were everywhere. 
I almost drove on to ask permission to walk the area, but as luck would have it, one of those pesky Ferruginous Hawks flew in to land above the car, sending all the passerines into cover and reminding me that I had miles to go.
Only a day and a half in to my scouting*, I was beginning to develop the slightest case of more-of-the-same-itis, so headed back north towards Scottsbluff. My first stop was the Wildcat Hills Nature Center, where I had two targets in mind.
The first one was easy: Melanie was just outside the building, and I enjoyed the chance to get to meet her in person and have a quick chat about her work in the Hills with RMBO. The second was more work — if a quiet stroll beneath the pines, with a grand view out across the Hills to the North Platte Valley counts as work. Finally, having reached a point where continuing my walk would involve some serious uphill on the way back, I gave up and turned around.
Only to be stopped in my tracks by what I'd come here to find: the mewling whine of a Blue-gray Gnatcatcher. Just fifteen years ago, it was essentially impossible to find that species here, but for whatever reason, gnatcatchers moved into the Nebraska Panhandle in the early 1990s, and they now breed more or less commonly as far north as the Wildcat Hills. I saw two on my walk back to the nature center building, and Melanie told me she'd netted more than ten individuals in the past couple of weeks; this is a bird here to stay.
Runza called, so I stopped for lunch in Scottsbluff and pondered the rest of the day. It was getting very warm indeed, and the relative lack of passerine activity in the Hills convinced me that it might be time to head for the water. I arrived at Lake Minatare to find more sand than water, but there were birds out there, and lots of them. I could identify most of them from the parking lot – American White Pelicans, Ring-billed Gulls, American Avocets, Black Terns — and had a pretty good idea what most of the smaller shorebirds were, too; identification, however, isn't always the same as enjoyment, and I shouldered my scope and set out across the lakebed to get some close-up views.
The most abundant shorebirds were, not unexpectedly, juvenile Baird's Sandpipers; I found one molting adult of that species, too, a bit unusual for the date. A number of Least Sandpipers were among them, and the four suspicious birds I'd seen from the parking lot did indeed turn out to be Sanderlings, a species I'd seen only a few times before in Nebraska. That species seems to be more frequent in the west than in the eastern part of the state, just like the Black-bellied Plover, one juvenile of which was standing around in the shallows.
I had the most fun with the little Calidris, though. The Baird's Sandpiper, familiar as it is to anyone who grew up birding in the midwest, is still an absolutely captivating bird, and I relished the chance to just sit quietly among the feeding flocks.
What I hadn't noticed from the parking area was the presence of Semipalmated Sandpipers on the flats. It's not a rare bird by any means, but it is one of the peculiarities of this species' southbound migration that most fall birds in Nebraska are of the "western" type, with stubby, thick bills, much "cuter" than the long-billed birds we see here in New Jersey.
Inevitably, my best photos of the birds — all juveniles — show them with their bills in the mud.
I decided to end the day at a famous place, knowing that I risked running into crowds. And I did: when I pulled in at the Visitor Center, there were four cars in the lot and at least half a dozen people contemplating Chimney Rock.
It still looks exactly like it did when I first saw it, more than forty years ago, a circumstance that makes me doubt gravely the ancient claims that the "chimney" was once twice as high.
No, I don't think so.
Once again my June beetle friend was waiting under my porch light, and all was right with the world. I even slept a little later the next morning, knowing that the sites on the day's agenda were — by the standards of that wide-open part of the world — local.
The weather had changed when I got up, the winds sensibly soggier and the skies noticeably duller. It was still dry, though, and I really, really wanted to go looking for rare thrashers in Kimball County. As I drove through the dawn, the first raindrops hit the windshield, and sunrise presented me with one of those beautifully ominous midwestern skies.
I've always reacted to a sight like this the way I imagine others respond to "horror" movies: slightly frightened and massively fascinated, half hoping and half dreading that something — hail, a tornado, flying monkeys — will drop out of those voluptuous curves (we all know what such clouds are called, don't we?). Naturally, nothing fell until I was well and truly away from the highway and out on the notoriously slick and serpentine roads south of Kimball. The rain was heavy enough to keep the birds invisible, and by the time I regained pavement with a grateful sigh, I think I'd seen nothing more than a few Horned Larks, Vesper Sparrows, and Cassin's Kingbirds. 
Just as naturally, the skies started to lift once I was back on the highway, and it was bright and sunny by the time I hit Bushnell, that scruffy little Panhandle settlement that continues to earn its proud and longstanding title of Least Hospitable Town in Nebraska. This time, after enjoying the Clay-colored and Brewer's Sparrows, Eastern Bluebirds, and Orange-crowned Warblers, I noticed a little road I'd never seen before leading west. So I tried it — only to discover after a few yards that it obviously led to somebody's buildings. I had just found a wide spot to turn around when up roared a truck and out poured a string of invective about one's — my — utter disregard for property rights and the physical risk I would be running should I ever attempt to return. I'd thought at first it was a small hog operation, but it must have been a meth lab — one where the staff is generously permitted to sample the wares. Annoying.
I got over it pretty quickly, knowing that not too terribly far away was a site in the Wildcat Hills I'd never seen before, Cedar Canyon.
It was here that I watched the aerobatics of a Ferruginous Hawk as it tried to drive a Golden Eagle away from its favored cliffside, but dramatic as that was, the chief entertainment during the hours I spent wandering, alone, beneath the beautiful blue skies was provided by Rock Wrens, which popped up every few minutes to investigate this apparently unwonted (and probably unwanted) intruder. 

It was a stunningly beautiful walk, topped off by one of the several Townsend's Solitaires, which lifted off from a cedar in front of me and sang a few phrases of that amazing jangly song in the air above my head. Just perfect, and the Lesser Goldfinches in the sunflower patches on my way out were just a bonus.
I was due for dinner at 6:00 — with a long hot shower an absolute necessity before — but I made sure to leave myself time to visit another of the famous Oregon Trail landmarks, Courthouse and Jail Rocks, just outside of Bridgeport.
More Rock Wrens, a few Mourning Doves, the peaceful sound of the breeze on the rocks and the grass.
I was very happy to start running into friends old and dear as soon as I got back to town, and it was great fun to catch up with everybody as we ate and drank and planned the next morning. Wayne surprised me with the gift of the two volumes of the NOU's Proceedings that I was missing, rare and beautiful publications that more than a century ago set a standard met again only in the past several years, with Janice and Joe and their team doing such a good job of bringing the venerable Bird Review into our century. All of the field trips were more than tempting, and I wanted to be everywhere with everyone, but finally decided to follow Wayne to Kimball County; I was happy to get to ride along with Al and Cindy and Betty, making for good conversation in between the good birds. We retraced some of the route I'd taken a couple of days earlier and visited sites I'd heard of but never knowingly been to.
One was a dead-end side road on the top of a piny ridge, where Pygmy Nuthatches squeaked and Vesper Sparrows tsipped. I was looking the wrong direction when suddenly there was a bustle in the group, and I heard someone say "sapsucker." I spun around and got the bird in my bins, amazed to find myself looking at an adult Red-naped Sapsucker, the first I'd ever seen in the state. It took off after nearly a minute, hesitating for just a moment in flight to go after an insect before vanishing over the next hill.
That should have been enough, but there was more. The muddy waters of a couple of large ephemeral ponds south of Kimball were stirred up by a small flock of Wilson's Phalaropes, and the city park where we ate our lunch had brought down a few migrants, including a good-looking Townsend's Warbler, an uncommon migrant even just that far east. I was especially interested to see that the male Downy Woodpecker feeding in the tree above our picnic table was regularly and abundantly spotted on the wing coverts: an eastern bird.
Dinner — chicken, brisket, and baked beans — would have been delicious even if we hadn't all been ravenous after a day of fresh air and birds. I think my talk, about nighthawks and nighthawk stories, went well enough, and we were all safely tucked away early enough to make next morning's 7:00 start feel more than humane.
This time I joined the group visiting Helen and David at their Wind Springs Ranch, a lovely place in southern Sioux County. The birding started nearly as soon as we'd pulled off the road, in a small stand of cottonwoods next to the calving pasture. Several Lazuli Buntings were buzzing around, and after chipping unseen for twenty minutes or more, a beautiful Black-headed Grosbeak perched up just as we were leaving. A Song Sparrow, the only one I saw all week, was fairly notable for the location.
We continued on to the house, and spent considerable time watching Gray Catbirds, a Western Tanager, Wilson's and Orange-crowned Warblers, and a good selection of sparrows along the creek. A familiar metallic "tzeek" preceded the appearance of a handsome Swamp Sparrow, certainly my first for the county and, Helen tells me, the first seen on their place. The large swallow flock contained two late Bank Swallows and a Cliff Swallow; the latter resisted all efforts to turn it into the not entirely impossible Cave.
Helen, an excellent teacher always, filled us in on the history and prehistory of their place, and even showed us a real beauty of an arrowhead she'd found above the house. The group broke up, reluctant but happy, at 11:00, and it was already time for goodbye's. Some of us set out for home, others back to Bridgeport for the final countdown, and others, like me, out into the wilds for a little more birding.
A nearly adult Bald Eagle flew over me as I turned back onto the highway, which I took as an encouraging sign. I wandered my way over to Henry — one of those towns that seems to change its precise location every time I try to find it — and then decided to head north to see what I could see.
It was another bright and beautiful day, maybe even too bright and beautiful, and certainly too warm, for there to be many birds out. Horned Larks dominated, as usual, and there were even more McCown's Longspurs among them than there had been a couple of days before. Two Golden Eagles soared over a distant butte, and Rock Wrens bobbed on the road ahead of the car, flushing only reluctantly and landing on a ditch or a fence nearby. Pronghorns lined the road, as they had most of the roads I'd driven.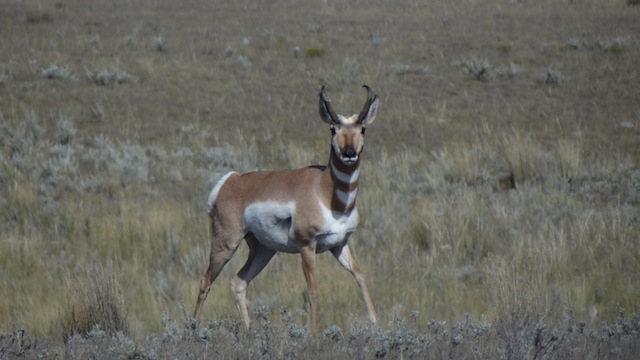 And then I was in Harrison, already, and the evening was falling, already, and it was time to pack up for my trip back home. Already.
Many thanks to all who made this such a great trip, and I can't wait to see you again — and to introduce new friends to this wonderful part of the world next May, when we'll be birding our way from the deciduous forests of the east to the beautiful plains, forests, and grasslands of the Panhandle.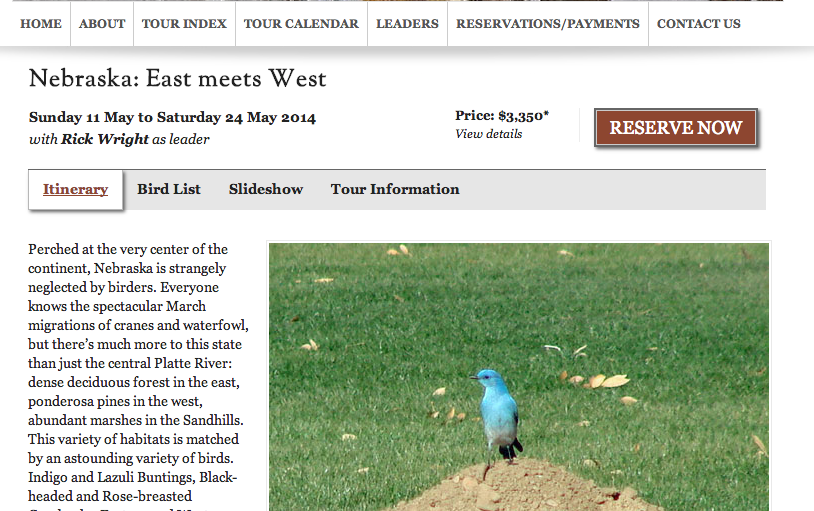 * Scouting: the IRS-friendly term for birding away from home
What on earth is a Rocky Mountain Anteater?
Google if you must, but the first non-googler to answer correctly in the comments below will win a book prize.
This isn't it. (Giant anteater, Guyana)
Perched at the very center of the continent, Nebraska is just one of those thousands of great places strangely neglected by birders.
Everyone knows the spectacular March migrations of cranes and waterfowl, but there's much more to this state than just the central Platte River: dense deciduous forest in the east, ponderosa pines in the west, abundant marshes in the Sandhills.
This variety of habitats is matched by an astounding variety of birds. Indigo and Lazuli Buntings, Black-headed and Rose-breasted Grosbeaks, Eastern and Western Meadowlarks, and Swainson's and Broad-winged Hawks all breed in the state, sometimes on adjacent territories, and a vast range of migrants pour in from the east and the west, the north and the south.
My new two-week springtime tour covers many of the finest birding areas in the state, from the Pileated Woodpeckers and Prothonotary Warblers of the southeastern forests to the Long-billed Curlews and Sharp-tailed Grouse of the grassy Sandhills and the Pygmy Nuthatches and Mountain Bluebirds of the Pine Ridge.
Join me in May 2014! It promises to be a great time.