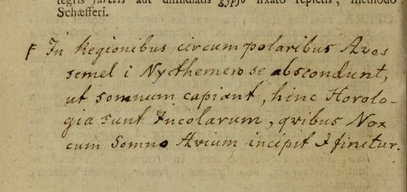 When I was young, we said of someone retiring early that he was "going to sleep with the chickens."
In 1784 — antedating even my long-ago childhood — the English botanist and physician James Edward Smith purchased the library and collections of Carl von Linné.

Most of those materials became, of course, the intellectual foundation of the Linnean Society of London. The Archiater's personal copy of the 1766 Twelfth Edition of the Systema naturae, though, made its way into the library of Harvard's Arnold Arboretum, and thence, by one of those now everyday e-miracles that still leaves me shaking my head in grateful disbelief, to the internet.
Like so many copies of the Systema in all its editions, this one is well annotated. Most of the notes are, as expected, bibliographic. But there are a few more substantive manuscript additions; my favorite is this one:
In the Arctic regions, the birds retreat once every twenty-four hours to sleep. In this they serve as a clock for the local inhabitants, whose night thus begins and ends with the roosting of the birds.
Plus ça change….