Author Archive
Two Thanksgivings ago, Hawaii's first Snowy Owl was shot in Honolulu, just one of the hundreds and thousands of birds of the species that poured in across the western portions of North America that winter.
This year, to my New Jersey delight, the incursion is heaviest here in the Northeast, and once again some birds — impossible to know how many — have opted for the water route. One has even made it as far as Bermuda, and Nate reports that a bird that landed on a ship out of Delaware is, even as we write, on its way to Antwerp, perched happily (one hopes) atop the containers on the deck of the Independent Concept.
One hundred seventy five years ago, Captain McKechnie of the ship John and Robert made some even more startling observations of pelagic Snowy Owls. The ship left Québec in early November 1838, reaching Belfast a month later:
The vessel was about 250 miles from the straits of Bellisle, or the S.E. point of Labrador, when these Owls first appeared, but sailing eastward, was on the day they were last seen about 740 miles distant from them and 480 miles from the southern extremity of Greenland….
The numbers involved were nothing short of awesome: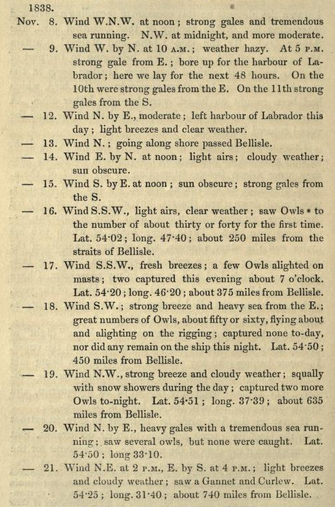 Owls first appeared on November 16, "to the number of about thirty or forty," and two days later, the captain recorded
great numbers of Owls, about fifty or sixty [!], flying about and alighting on the rigging.
Just close your eyes and imagine:
the migration of these Owls [was] an extremely beautiful sight…. Sometimes they kept flying about the vessel without alighting, and again there would be one or two on every yard-arm, with others hovering just above; on alighting, they fell asleep….
The drowsy birds were easily captured, and three specimens, two males and a female, were brought alive to Belfast, where they were acquired by the naturalist William Thompson, who kept them
in a spacious garden containing any fruit trees, [the birds] never perch upon them, but remain constantly on the ground … greatly to the disadvantage of their appearance.
I would imagine so.