If you spend any time at all nosing around in the past and the personalities of birding and ornithology, you soon enough come across the riotous wealth of genealogical websites out there.
Grateful as I am for the occasional hints and clues these — mostly amateur, I assume — family treeclimbers provide, I'm more often struck by how the determination with which many of them excavate the names and dates of their ancestors goes unmatched by any effort to establish a historical context. It's amusing and thought-provoking (and sometimes just plain provoking) to see names famous in "our" world pop up in a genealogy with no indication at all of their long-dead bearers' considerable accomplishments .
So much the more gratifying, then, to find a family that is fully aware of the ornithological attainments of its forebears, among them Hans Graf von Berlepsch, who died in Göttingen 100 years ago today.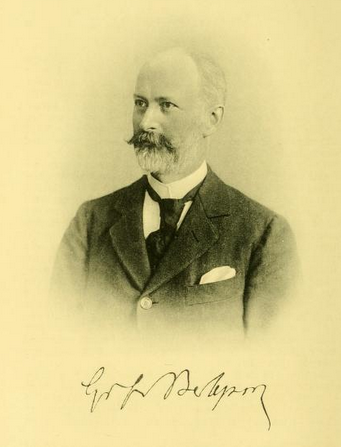 The Berlepsches seem to have been destined for ornithological greatness as early as the twelfth century. According to the count's younger cousin, another ornithological Hans, Baron von Berlepsch, the family's coat of arms bears five parrots:
Heraldic legend tells us that on his travels through the land, Emperor Frederick Barbarossa, followingthe custom then current, spent the night in the castle of a Berlevessen (the name was altered to Berlepsch only in the fifteenth century). When the next morning the emperor saw his host amusing himself with unknown green birds, he chastised him for it, as unbefitting a noble knight. Berlepsch responded, "You are doing me an injustice. You should first have asked where these birds came from. I know what is suitable for a knight, and I do just that. When it is necessary and I have the opportunity, I draw my sword; but when things are peaceful, I think such activities as this are permitted. Thus, I followed you when you proclaimed a crusade, and I brought these parrots back from there with me." Barbarossa saw that he had been wrong and said, "And so you shall bear these birds in your coat of arms from now on as a reminder of your crusade and of this episode today."
As his eulogist Carl Hellmayr reports, Hans, Count von Berlepsch traced his own interest in natural history to a more immediate source: As a child on his father's estate Fahrenbach, Berlepsch was instructed by a series of tutors, one of whom, Pastor Degering, inspired in his young pupil a fanatical interest in orchids.
By the time he was a teenager, his obsession had shifted to birds, and the oldest skins in what would later be a vast collection were prepared in the spring of 1868. Five years later, having purchased a considerable collection of Brazilian specimens from a dealer in Halle, Berlepsch published his first scientific work, an extensive essay on the ornithology of the province of Santa Catarina.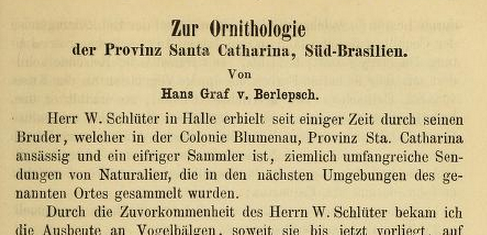 Hellmayr says that it was just chance that Schlüter happened to have this Brazilian collection on hand, but that that accident
would determine the future course of the young ornithologist, who from then on devoted his particular interest to the study of neotropic birds. No opportunity to build the growing collection further was passed by,
and Berlepsch must have spent a fortune buying skins in Leipzig, Coburg, Kassel, Hanover, London, and Paris before settling in to his study in Hannoversch Münden, from which he directed an extensive network of collectors in South America: Hellmayr mentions Jhering, Minlos, Lorent, the Garlepp brothers, and others, all of whom sent skins back to Europe for the Berlepsch collection.
At the time of his death in 1915, that collection included more than 55,000 specimens, among them no fewer than 6000 hummingbirds, and almost 300 types, chiefly of South American taxa. Hellmayr had concluded his Nachruf with the wish that the Berlepsch collection remain in a German institution — a wish fulfilled a year later, when the Senckenberg purchased the entire lot.
Now forming more than half of the ornithological holdings of that museum, Berlepsch's birds are a fitting memorial, as are, of course, the many taxa named in his honor.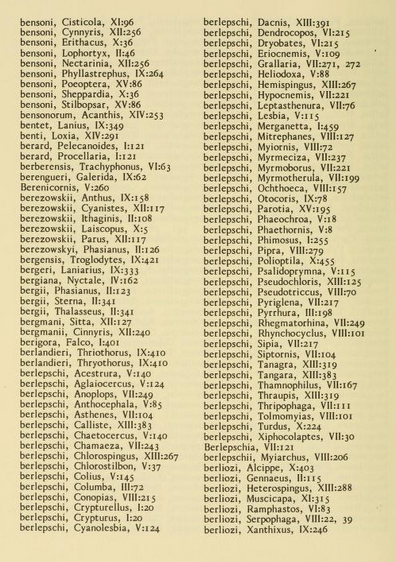 All those names are ample testimony to the esteem in which Berlepsch was held by his ornithologists around the world. One of the most touching moments in all of taxonomic history has to have come on October 30, 1897, when Berlepsch attended a meeting of the British Ornithologists' Club.
Berlepsch took the opportunity to enter into record a new tanager, collected for him in Ecuador by F.W.H. Rosenberg; he named it for Walter Rothschild. A bit later that same evening, three additional Ecuadorean nova were exhibited by Rothschild, among them a tinamou, which he named Crypturus berlepschi for his Hessian colleague. Mutual admiration, yes, and well deserved on both sides.