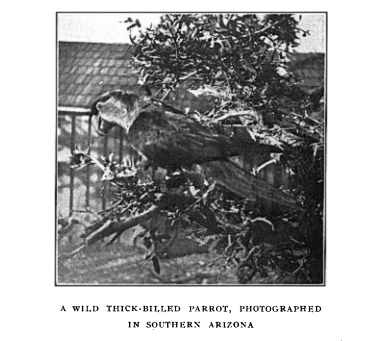 Way back when, August was prime time for the irregular incursions of the thick-billed parrot into the sky island ranges of southeast Arizona.
In the last week of the month in 1904, a flock of between seven hundred and a thousand — seven hundred to one thousand! — invaded Bonita Park in the Chiricahuas. As they gobbled pinyon nuts, the birds grew so tame that they could actually be photographed at close range with the slow cameras of the day, and one, "a bird of the year," was taken alive and presented to its captor's sister in Globe.
Never again will we see numbers like that, not in Arizona and sadly not in Sonora and Chihuahua, either.
I'd settle for one on this week's tour with the Fontenelle Bird Club, but still we can dream of the old days.
Can't we?