A Nighthawk Euphemism?
By
Few avian groups have inspired as many folk names, or as weird, as the nightjars. My current favorite is an old French name for the European Nightjar, which was transfered in the New World to the nighthawk: crapaud-volant, the flying toad, so called, obviously enough, for the great gash of a mouth that slashes across the bird's blunt face.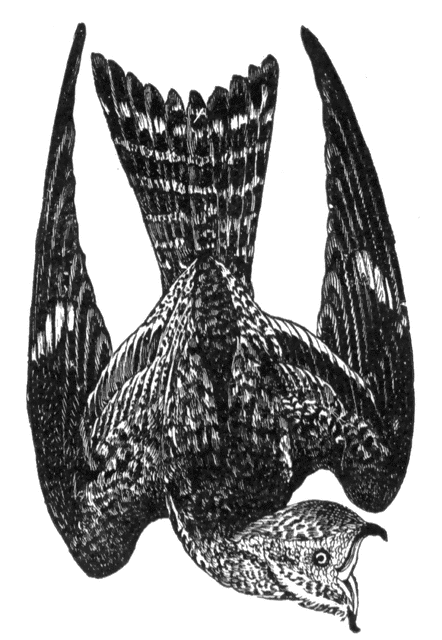 In an idle moment (or rather, a moment in which I, meant to be working hard, was idle instead), I thought I'd look around to see whether I could determine the "register" of that funny-sounding word: was it more like "nighthawk" or like "bullbat," more like "caprimulgid" or like "goatsucker"? I wasn't able to figure that out, but my snuffling around in the good old Encyclopédie did put me on to something even more interesting.
D'Alembert (I assume he was the one), it seems, would have no truck with flying frogmouths. The lemma goes without any definition, the entire entry consisting in the terse cross-reference "see tête-chevre."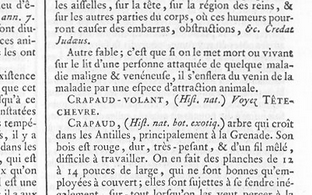 Tète-chevre means "suckle-goat," a simple loan translation of the latinizing caprimulgus. But tête-chevre — with its circumflex accent – can be read to mean "goat head" instead, and the entry in the Encyclopédie plays delicately on the word's ambiguity.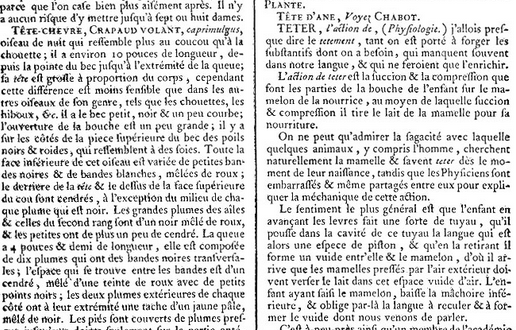 Note how the first physical character adduced in the description is the size of the head — it is "thick relative to the body" — and, especially, that the word tête, meaning "head," is italicized in the text, a typographic convention used by the Encyclopédie when a headword re-appears in its own definition. It seems to me that the author of this entry is at pains to have the reader believe, incorrectly, that these birds are called as they are because their necks terminate in something resembling the noggin of a nanny, probably in the attempt to introduce a better ton into a matter otherwise so distasteful.
But truth will out whether it offends our sensibilities or not, and the article ends with the "real" etymology of the name:
This bird has been given the name tête-chevre because it is claimed that it fixes itself to the teats of goats in the pasture and sucks their milk.
By the time the reader has made it this far, though, to the very final sentence of the entry, she or he has already "processed" the alternative, less scurillous origin suggested at the beginning. I'd be interested in knowing how a native French-speaker without any foreknowledge of the goat-sucking tale analyzes this name on first blush: can anybody help?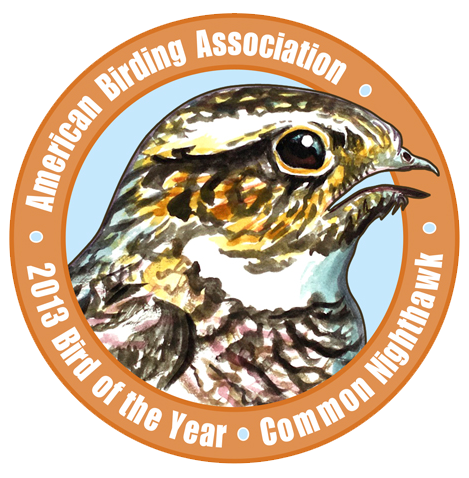 Leave a Comment