Happy Birthday, Fish Crow!
By
We can't let 2012 go without celebrating the 200th anniversary of the first scientific description of the Fish Crow.
Alexander Wilson first encountered this "roving inhabitant of our coasts, ponds, and river shores" in Georgia and Mississippi, but the formal description is of an adult male he collected at a nest "near Mr. Beasley's, at Great Egg-Harbour," New Jersey. Wilson's painting of the bird, complete with eponymous prey item, serves as the type: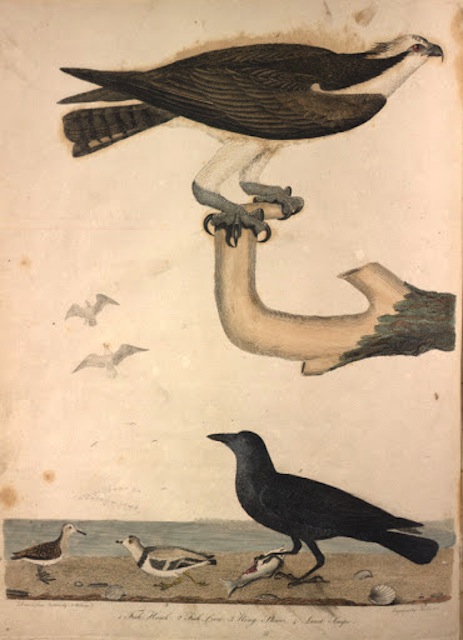 With his usual honesty, Wilson notes that the fishermen along the Schuylkill and the Delaware already knew the bird, "particularly remarked by his croaking voice, and his fondness for fish." The ornithologist describes the voice of his new species as "hoarse and guttural, uttered as if something stuck in their throat, and varied into several modulations" — as good a summing up as there probably can be of the weird nasal sounds these crows emit.
During his time in the south, Wilson observed something that I can't remember ever having seen myself. In Georgia,
near the Ogechee river, I took notice of these Crows frequently perching on the backs of the cattle …. I also observed him a pretty constant attendant at the pens, where the cows were usually milked ….
Apparently the crows' attention to livestock attracted the suspicion of southern farmers, as Wilson felt the need to intervene on the little crow's behalf:
I would beg leave to recommend to the watchful farmers of the United States, that in their honest indignation against the common Crow, they would spare the present species, and not shower destruction, indiscriminately, on their black friends and enemies ….
Crows (but not Common Ravens, thankfully) are still hunted in New Jersey, generally not by "watchful farmers" but rather by those out for target practice and for feathers. I haven't been able to find out how many Fish Crows are among them; shame we couldn't have celebrated the species' scientific "birthday" with a year's reprieve.
Leave a Comment