Shorebirds in the desert!
Just when it seems like it will never happen, the monsoon rains begin, and the adult shorebirds begin to trickle down from their northern breeding grounds.
I'm only half-teasing when I tell people that southeast Arizona is the best shorebirding on the continent; we don't get a huge variety and we don't get huge numbers, but what we do see, we get to see up close and well.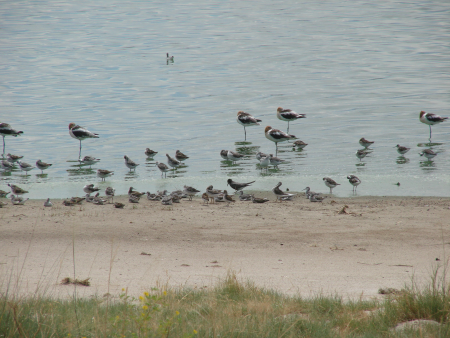 As even this rather distant shot demonstrates, by far the majority of the waders on the Willcox sewage pond this afternoon were Wilson's Phalaropes, a couple of hundred of them spinning around and generally acting goofy on the water and the shore. Unlike the Least and Western Sandpipers, many of the phalaropes were juveniles, this summer's birds just beginning to molt into their grayer winter plumage. Check out the new scapulars on this one.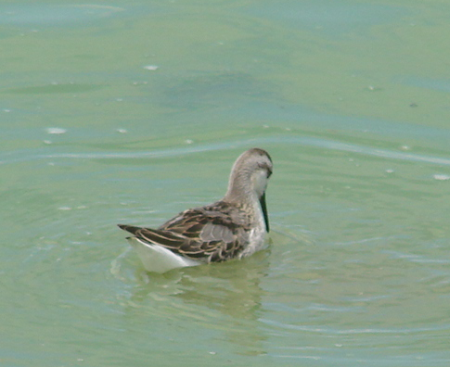 Even younger were the 3 American Avocet chicks we watched, locally hatched downies with short bills; even though they lacked the extravagant bill structure of their parents, they were still feeding in an unmistakably avocetian way, sweeping their stubby beaks through the shallow water just like the grown-ups.
But except for the phalaropes, avocets, and other nearby breeders like Killdeer, Black-necked Stilt, and Spotted Sandpiper, July at Willcox is the time for adults. There were a few dozen Least Sandpipers scattered about, fewer than I'd expected but wonderful to see (and hear) all the same; their upperparts are so worn that many appeared simply black above at any distance.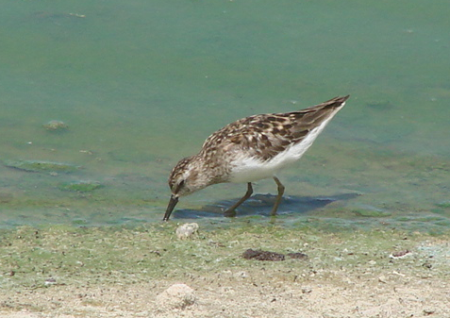 This one is already showing some winter lower scapulars.
Nearly as common as Least were adult Baird's Sandpipers, a bird near and dear to this prairie boy's heart.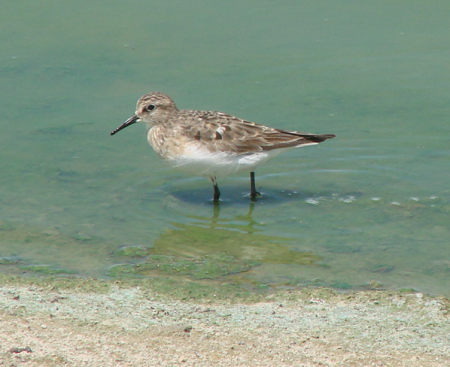 The commonest peep, though, was Western Sandpiper, dramatically plumaged rufous birds badly in need of a molt. The only other Calidris we saw were Stilt Sandpipers, two adults feeding with Long-billed Dowitchers and phalaropes, their usual companions this time of year.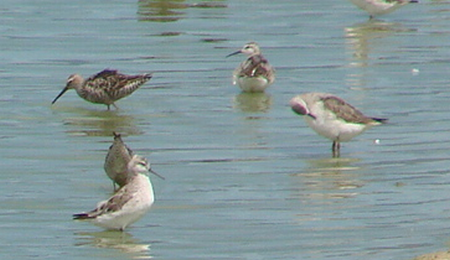 And there was a real rarity, too, first discovered a couple of days ago by Richard. I've now seen two individual turnstones in Arizona, representing two species, and both were on precisely the same stretch of muddy shoreline at Willcox.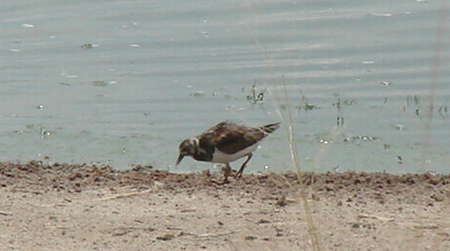 Not bad for the desert!