February 22: It started to rain as we returned to Chimino for our lunch, but we were too full of the morning's excitement to care. Fortunately, the weather cleared just as we were loading our things onto the boat for the return trip to Sayaxche, where our van once again awaited us, and the ride back on the Pasin was as birdful as the ride out had been.
Birding time knows only its own clocks, of course, and so darkness fell well before we were in Tikal that evening. But night time in the tropics has its own allures, and at one point two great saucers of yellow light flashed across the road in front of the van. A bird! We screeched to a stop and looked out the windows to find a Northern Potoo perched on a stump just feet away from our vehicle.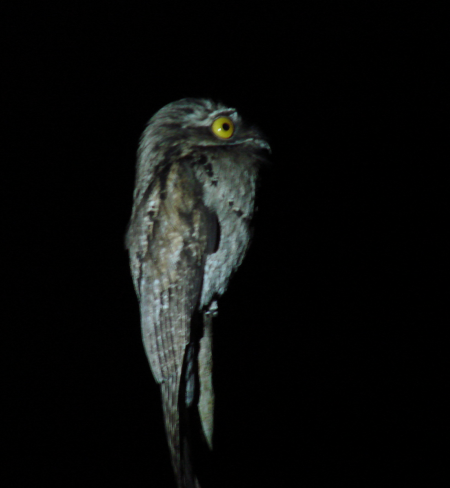 Our security escort, a few car lengths behind us, had obviously not seen the bird, and a second later they were pulled up beside us, frantically asking what was wrong, what had happened, what we were doing. Beside us, that is to say, blocking the bird. Our answers were even more frantic, and when we were finally able to make them understand what we were seeing, they generously offered to put a light on the potoo for us.
Regrettably, the only illumination they found to cast on the scene was the blue-and-reds on the roof of their SUV, so for precious seconds we saw the bird in the strobe flashes of police lights. At least the siren didn't come on, though if it had, at least I wouldn't have been able to hear someone, unnamed, humming an ABBA tune from the back seat.